The AddSearch WordPress plugin allows anybody with a self-hosted WordPress website to install AddSearch easily. The plugin replaces the existing search of your website with AddSearch, allowing your users to enjoy an instant and lightning-fast search.
Prerequisites
The AddSearch WordPress plugin requires an AddSearch account and a crawling index. If you don't have an AddSearch account, you can sign up to AddSearch here and follow the steps at the sign-up flow to create an account. After signing up, click the Set up crawling button to create a crawling index.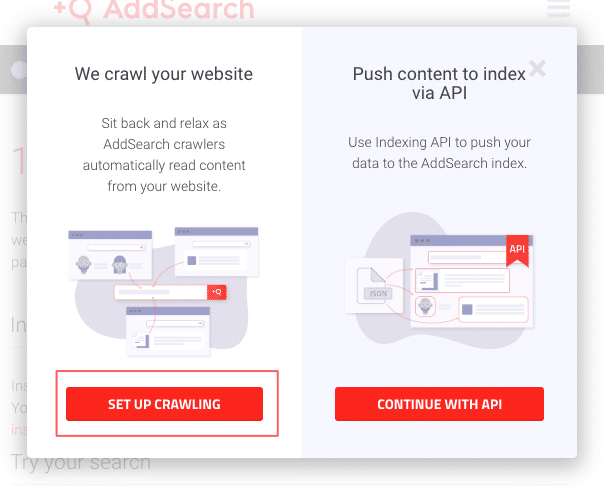 Installing the AddSearch plugin
Log in to your WordPress account
Click the Plugins link

On the Plugins page, click the Add New button

On the Add Plugins page, search with the keyword AddSearch to find the AddSearch plugin

Click the Install Now button to install the AddSearch plugin
After the installation, activate the plugin by clicking the Activate button

Setting up the AddSearch plugin
Your account's site key is required for the plugin to access the search index. You can copy the site key from the AddSearch dashboard and paste it to the plugin's settings in the WordPress dashboard.
Click the Keys and installation link in the AddSearch dashboard

Copy the site key

Click AddSearch link under the Settings in the WordPress dashboard

Paste the site key copied from AddSearch dashboard to the input field
Click the Save Changes button to submit the changes

Choose the search view next to the Installation method settings

Click the Save Changes button to submit the changes

Check your the search bar behaviour on your website
Using AddSearch Shortcode
If your theme does not have a default search bar, or if you want to add a search bar to any place on your website, you can use [addsearch] shortcode.
Let us know if you liked the post. That's the only way we can improve.