AddSearch is an instant search for websites that displays results immediately, from the first keystroke.
The easiest way to implement AddSearch on a Squarespace site is to use Addsearch's Quick method, and insert a single line of HTML by putting a Custom Code element on each page that you want to include the search engine.
If you have a lot of pages, this might be a bit of work.
How to Install AddSearch onto a Squarespace Site
Sign up for AddSearch on our homepage. You'll receive an email with a link to a demo of your search. The demo page includes the AddSearch installation code. Copy this code to your clipboard.
(If you've already signed up for AddSearch you can also find this code by logging into the AddSearch Dashboard and clicking Installation.)
The code you need to copy looks like the script below, where SITEKEY is a numerical identifier field for your site:
<script src="https://addsearch.com/js/?key=SITEKEY"></script>
Log into your Squarespace site, and open the page where you want to install the AddSearch search bar.
Add a Custom Code element by clicking the +, and scrolling down until you see the button  <code> and then clicking on it.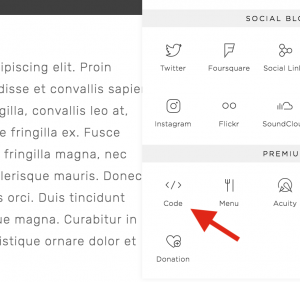 This will bring up a text field window. Remove the Hello world and replace it with the script from step 1. (replace SITEKEY with your key).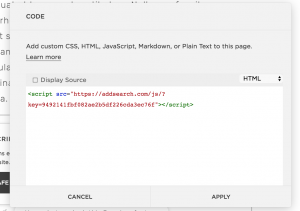 Now click Apply and Save the changes on the page. Done!
Note: While in editing mode, SquareSpace will disable the script, but you can preview it in safe mode. You can see it in action by logging out or visiting your site in another or incognito browser.
Let us know if you liked the post. That's the only way we can improve.