AddSearch allows you to export a list of the indexed pages' URLs and IDs.
Exporting indexed URLs/IDs is useful if you want to review whether pages are missing from the index. You can also use the list to determine which pages or areas of your site to exclude from the search.
Instructions
To export all indexed URLs/IDs, follow these instructions
Login to your AddSearch Account
Go to the Index tools
Click Start export under URL export tool
Click Download file to download the list
Please note that generating the export takes a short while.


The generated file looks like this
Document URL;Document Id
"www.example.com/page1";fb32f2e01fb55fe957cec2f93501697f
"www.example.com/page2";2269f9b54bb6b820695995ee01f82a32
The document Id is the document URL encoded as md5 hash.
You can export another list. Click Redo export under URL export tool.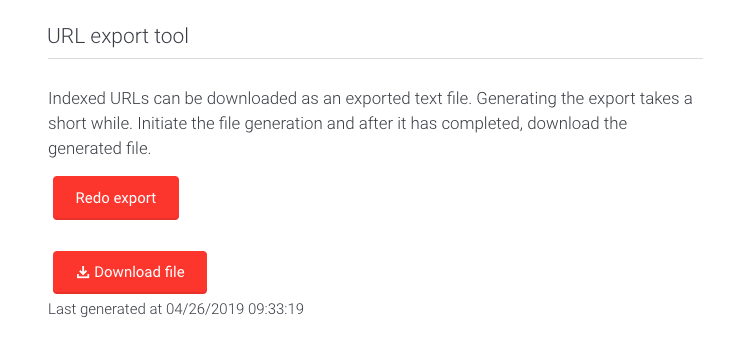 Let us know if you liked the post. That's the only way we can improve.