Most modern businesses strive to provide users with a good looking and intuitive website. But it's a shame when the pages don't get a lot of visitors, isn't it? Many internet users rely on search engines like Google Search to find content that they currently want to consume. So for them to find your website during their search, you need to rank well in search results. One way to achieve this is by following some SEO best practices for your website design and content.
But why do we, as site search providers, write about SEO? Very simple: Because site search is also a kind of search engine and your SEO efforts can do wonders for your internal search as well. Let's find out more!
What is SEO website design, and what does it have to do with site search?
Let's kick things off with a quick talk about the basics: What is SEO and SEO website design anyway?
Search engine optimization (SEO for short) aims to increase your website's visibility in search engines such as Google Search or Bing without paying for it (e.g., in the form of ads). SEO website design is simply a part of the whole optimization process and focuses on how your site looks and feels to your users and search engines.
In most cases, highly accessible, user-friendly, and indexable websites perform better in search results than those that do not meet these criteria. Basically, to rank well, you should design and develop your website so that your users and search engines are satisfied.
But what does all of this have to do with on-site search? Simply put, most website search solutions are search engines. They work in a pretty similar way, as we'll discuss in more detail in the following section. These similarities also mean that your SEO efforts will affect your internal search, which is excellent news! By following SEO website design best practices, you can improve the way external and internal search engines handle your content and increase user satisfaction.
Your site search solution is a search engine
Search engines like Google Search and site search make our lives easier by helping us find the information we're looking for. At the same time, website operators can look forward to increased revenue, conversions, traffic, visiting times, etc. In short, finding content is probably the most essential and fundamental feature that all types of search engines have in common. But let's look at some other interesting similarities to understand the subject on a deeper level.
Both types of search engines use crawlers to collect content from websites, which is simply known as crawling. They then index the content so that they can later return it to users as relevant search results.
Some people say that anything not listed on Google's first results page doesn't exist. True or not, the fact is that search engines prefer some content over others. Most search engines have their own content rating methods to ensure users only get the most valuable search results.
Some more advanced on-site search solutions support personalization, which is an integral feature of major big search engines. Here, the search engine gets to know the user and their interests to present them with better and more valuable search results. For example, users can receive different search results for the same query depending on their previous searches.
Let's also talk about how internal and external search engines differ. Obviously, big search engines operate on a much larger scale. While site search only works with one or at least a small number of websites, Google and other external search engines have to crawl and index the entire WWW. This means that SEO mainly helps you stand out from all other websites that offer similar content.
Additionally, you don't own Google Search or Bing, so you can't decide how the search engines index, weigh, and rate your content. However, you have control over your site search and its settings, making it easier to present users with the results you find valuable. Nevertheless, since your site search isn't magical, you still need to make sure that your search solution can effectively crawl and index your website.
Now let's look at the top SEO web design tips that will help you improve your website for internal and external search engines, as well as for your users!
Tip #1: Use relevant keywords in your content
A big part of search engine optimization and SEO-friendly content creation is the correct use of keywords. With the help of keywords, search engines can understand what your website or page is about and thus provide users with valuable content based on their search query.
You can use dedicated keyword analysis or exploration tools to find the keywords that are currently important and popular with users and are also suitable for your purpose. Additionally, you should see what your website visitors are searching for and what terms they're using. The best way to do this is to look at the data collected by your site search analytics tool, and the connected website analytics tool such as Google Analytics.
Below you can see a screenshot of Google Trends, a handy tool to explore trending keywords: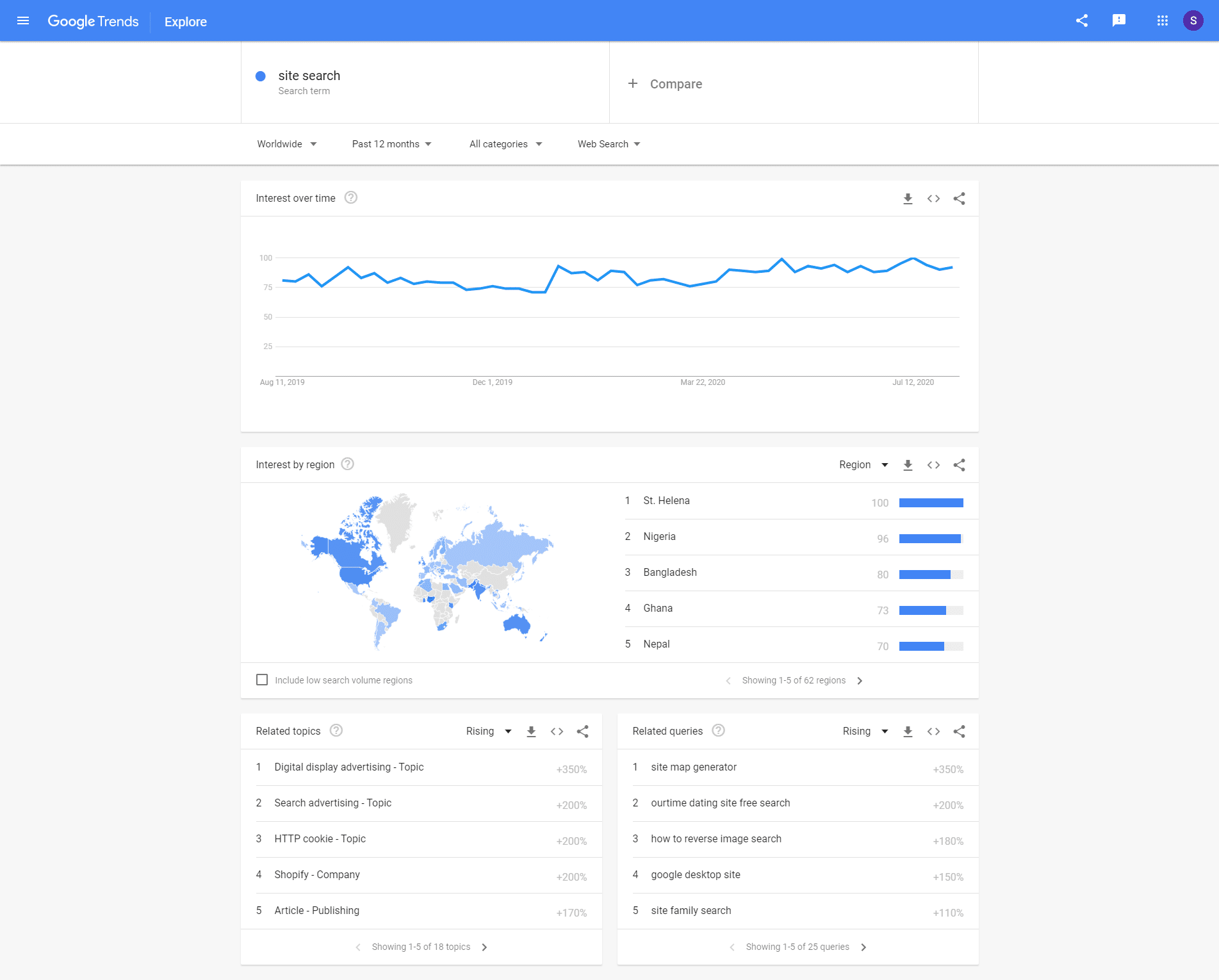 When you have a list of keywords, it's time to create new content or update existing ones to match your users' interests.
Make sure you sprinkle your keyword phrase throughout your content. Here are some popular places:
Title and meta description tags
– this is the text you see in Google search snippets. Most content management systems or dedicated SEO plugins offer text fields to enter content for these tags.
– these are your content's h1 to h6 HTML tags for your content's headings. Ensure you only use the h1 once per page and that you nest header tags logically (e.g., don't put an h2 into an h4).
– you can use an image's alt tag and file name to include your keyword. Note, though, the alt tag is what screen readers use to describe images to visually impaired users. Consequently, you should always focus on providing useful descriptions for these tags first.
– use the exact keyword and its variations, synonyms, and antonyms in your main content. How many times you should include your keyword depends on your text's length. Some SEO plugins for Content Management Systems (like Yoast SEO for WordPress) calculate the optimal number of occurrences for you.
However, make sure to not get too excited about your keywords and overdo it!
Search engines and users immediately recognize when they are confronted with content created for pure SEO reasons. The good news is that, for the most part, keywords naturally flow into your content. For example, suppose you are blogging about satin sheets – which is also the keyword. In that case, you will automatically incorporate the keyword into your writing without thinking about it too much.
Benefits of using the right keywords:
reduce the number of zero results for your site search
learn about your users' interests and behaviors
deliver content that is valuable to your users
help search engines understand what your website is about
get more users to your site who're interested in your topics
Tip #2: Make your website as fast as lightning
We humans are no longer used to waiting. This is especially true for websites: the longer users have to wait for a page, form, or search result to load, the more dissatisfied they become. Because search engines such as Google Search aim to recommend only user-friendly websites to users, slow sites are not performing too well in search results. Things aren't looking much better if your site search isn't performing well. In this case, users will likely abort their search and visit another website to help them achieve their goals faster.
Fortunately, it's quite straightforward to find out if your website is too slow. For example, use the open-source tool Google Lighthouse to see how your website is doing in Google's eyes. When you run the tool, your website will be checked for performance, accessibility, and SEO. You will then receive a report listing all the issues found, and solving them will help you get a higher score on the next test.
On the images below, you can see an example of a Google Lighthouse Performance report: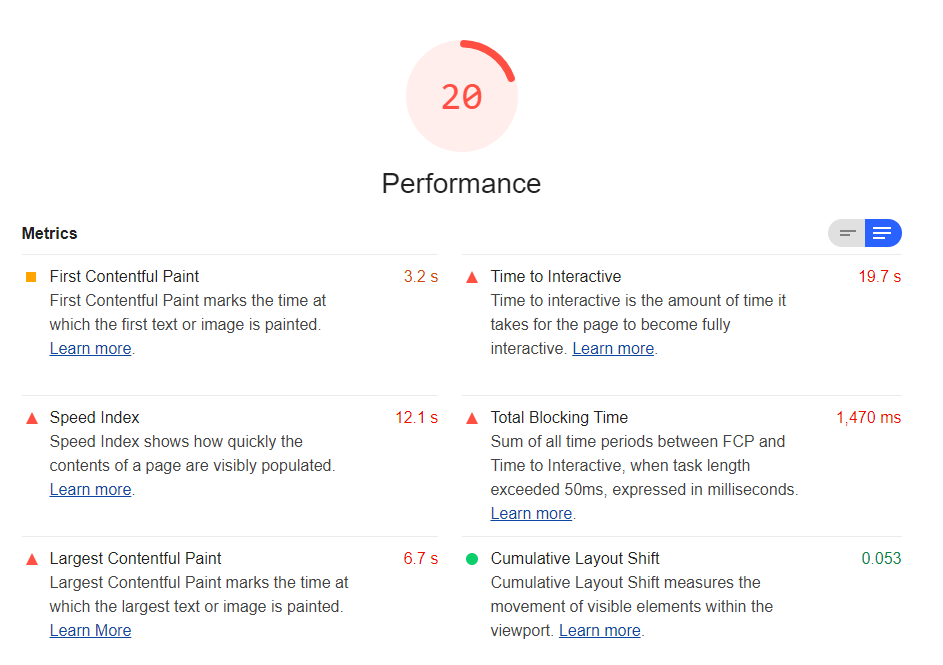 Benefits of a performant website:
increase user satisfaction by reducing waiting times for your search and other pages
likely get a better ranking in search results
help users find what they're looking for quickly and effortlessly
Tip #3: Create great user experiences on mobile devices
More and more people are using their mobile devices such as smartphones and tablets to browse the Internet. As a result, websites that work well on mobile devices tend to rank better in search results.
One way to ensure a mobile-friendly website design is to take a mobile-first approach, where you design and implement your website first for mobile devices and then for desktops. This method works quite well for many businesses, as adapting a mobile design for desktop is usually more straightforward than the other way around.
For example, the online shop Asos has designed different search UIs for mobile and desktop: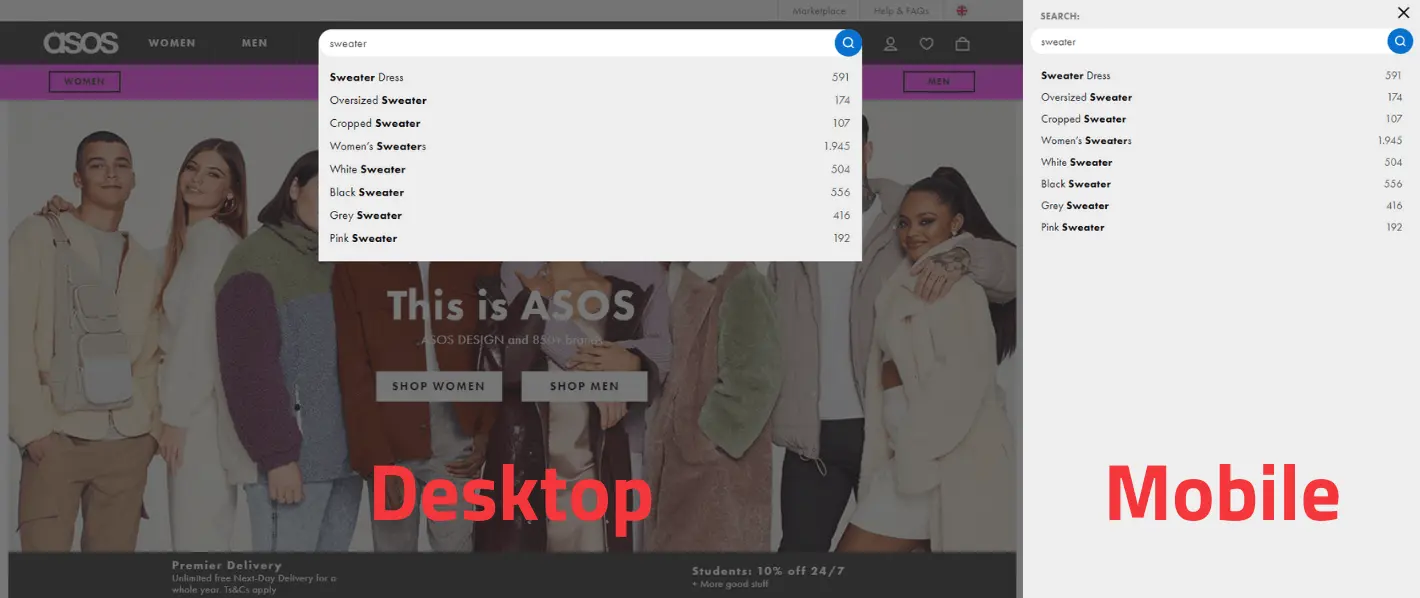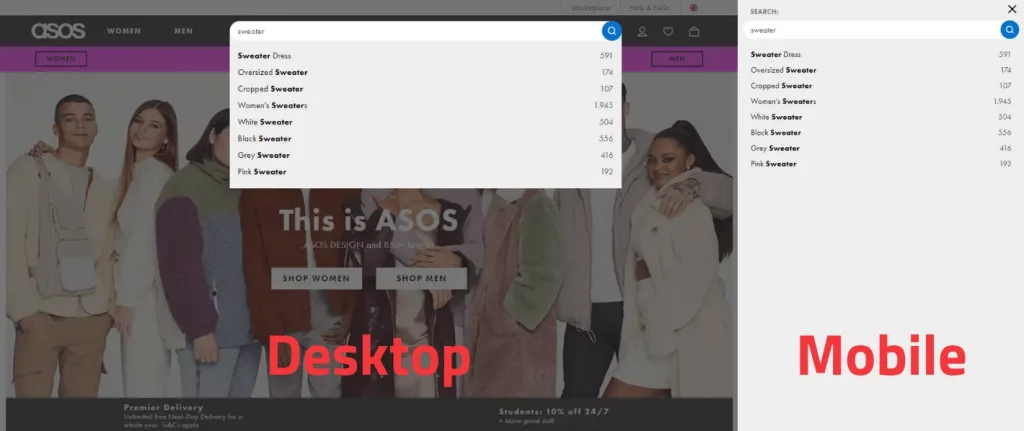 Okay, so what should you pay attention to? Here're some ideas to get you started:
– users expect websites to load blazingly fast, regardless of the device they're using or where they're currently at. This means that you need to ensure your website's performance on mobile devices, just as discussed in Tip #2 above. Additionally, test your site's speed with different mobile networks such as 4G, 3G, or even EDGE.
– double-check whether your mobile UI scales correctly. For example, make sure your buttons, navigation items, and form elements are big enough to properly respond to a finger press. Also, make sure your UI reacts instantly after an action or display a loading icon when things take a bit longer.
– for some instances, it pays off to create dedicated content for mobile. This could be using a shorter version of your original copy (text) or displaying a list instead of body text. If your images are too big for mobile, include different photos or create cropped versions of the original. For example, suppose you have a big landscape-oriented picture. In that case, you could try to crop it to a portrait-oriented ratio.
It is also helpful to use mobile UX and UI elements that users are already familiar with. Also, keep in mind that people use different devices and platforms in different ways. Eventually, your site search will also benefit from a well-designed mobile design as your search UI may need to look and work differently on mobile devices.
If you want to check the mobile-friendliness of your website, use Google Lighthouse, and get a report on what you can do better to achieve mobile excellence.
Benefits of improving your mobile SEO website design:
increase user satisfaction by delivering great user experiences on different platforms and screen sizes
receive more love from search engines
get the chance to experiment with mobile technologies such as voice assistants for your website searches
Tip #4: Opt for valuable content and avoid duplicates
You probably already know that search engines don't like duplicate content. If you want to achieve a good ranking on Google and co, you have to create unique content for each page. But not only search engines enjoy uniqueness! Diverse content is also more valuable to your website visitors – why should they be interested in reading the same content on X different pages? Additionally, duplicate content makes it more difficult for users to find content with your site search. Due to the similar pages, a search may return far too many results, making the search somewhat unnecessary.
The more content you have, the harder it becomes to make sure you don't repeat yourself. This is especially true if multiple people are contributing to your website. But don't worry, where's a problem, there's a solution! You can find some straightforward and free tools to check for duplicate content on the internet like siteliner.com. Paste your website URL in the input box and start scanning for duplicates: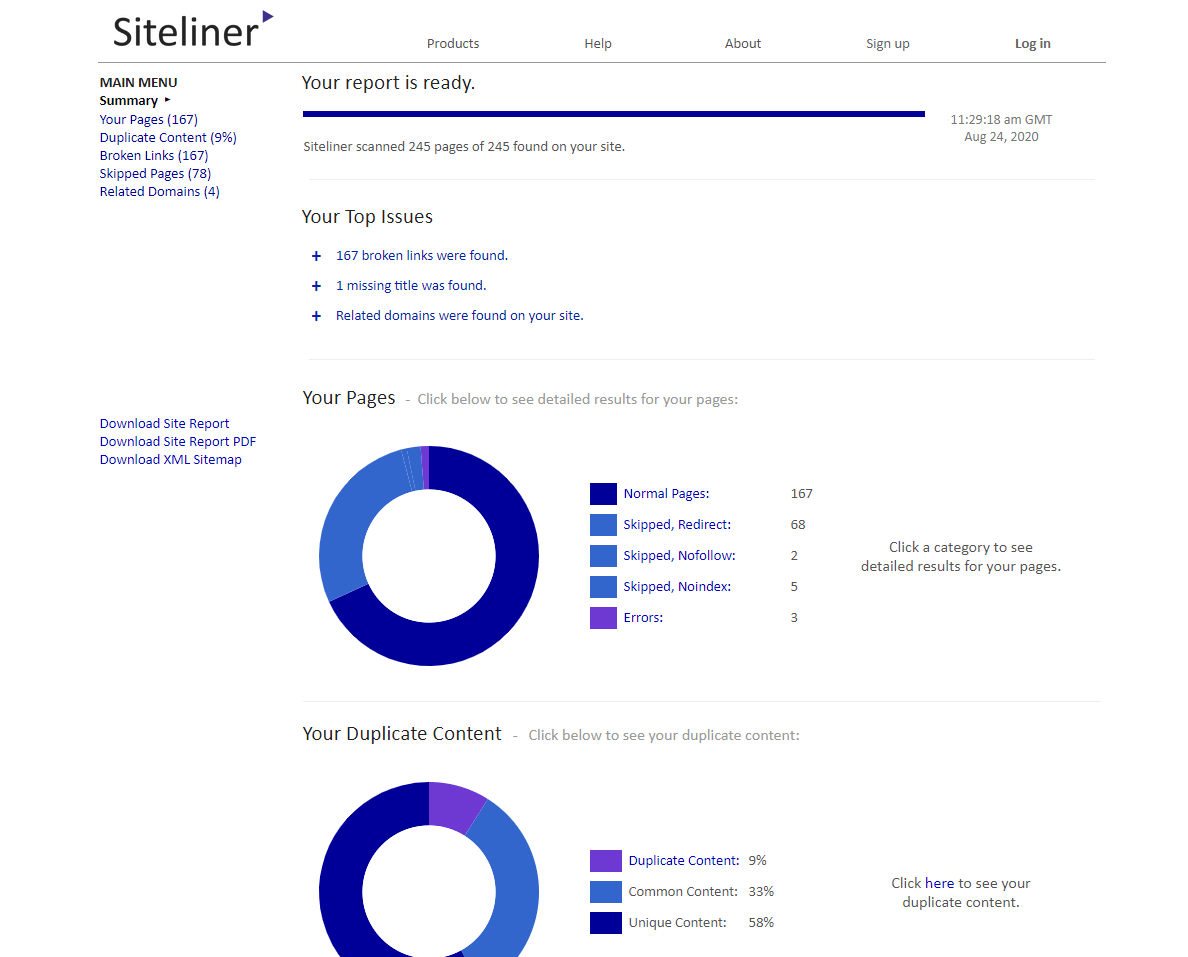 If you are using an advanced SEO tool, it likely offers a duplicate content checker already. So make sure to check your available options!
So always try to create unique content for each page on your website. Also, check whether you can delete existing content to make your website leaner and more searchable. Depending on your website type, a content strategy can be just what you need to avoid falling into the pitfalls of duplicate content.
The benefits of unique and valuable content:
users can find helpful and unique content faster
users will see the effort you put into creating content, which can positively impact brand loyalty
search engines will probably rank your website better
The ultimate tip for effective SEO web design
Of course, you can do so much more to improve your SEO website design that we haven't covered in this blog post. What benefits your website also depends on your company, your users, your requirements, and your site's current state.
However, you can't go wrong with our last tip: always design your website with your users in mind.
Work on improving the user experience (UX for short) of your website in order to keep your users satisfied in the long term. Happy users spend more time on your site, looking at different pages and content that you offer. Eventually, search engines like Google Search trust your website visitors' judgment and will rank you better accordingly.
A good and straightforward starting point for improving your website's user interface and UX is to work on your on-site search. Tweaking site search isn't a big project, but it can make a huge impact quickly if you know what you're doing and why you're doing it.
Would you like to give it a go? Then head over to our blog post "How to build a great search UI" and learn about everything you need to know to get started.
Was this helpful?
Let us know if you liked the post. That's the only way we can improve.