A prospect finding the answer they need on your site easily and on the first attempt can spell the difference between converting them or having them drop out of the funnel. Let's talk about how you can leverage AddSearch's AI and machine learning capabilities to optimize content discovery and maximize your site visitors' click-through rates.
Some challenges in making your visitors' site search experience more effective are
Getting fresh content in front of your customer
Your customer needs the latest information and in most instances, content from more recent documents that match the keywords would be the most relevant option. But getting fresh content in front of them is a challenge, especially if your website has content accumulated over 10 to 15 years. It is also not uncommon for documents to have the same subject or keywords across multiple years. With such an extensive index of documents, recent documents most pertinent to the user are drowned out by older documents deemed more suitable by the index. Users can re-sort by date, but then the relevancy score is made useless.
If your website provides time-sensitive expertise, for example where there are changes in legislation over time, it is critical to have access to the latest version of documents. Misinformation can be expensive.
Here's how we solved that problem for one of our customers:
The website of the European Central Bank shows search results separated into three categories: Any Time, Past Month, and Past Year, and each of them needs to be ordered by date.

AddSearch supports this with the Date Boost function, which boosts new documents and shows them higher on your results. For example, setting a maximum multiplier of 14 and a decay rate of 0.04 would give new records a 14x ranking boost on their first day that would then decay back to normal in 350 (14/0.04) days.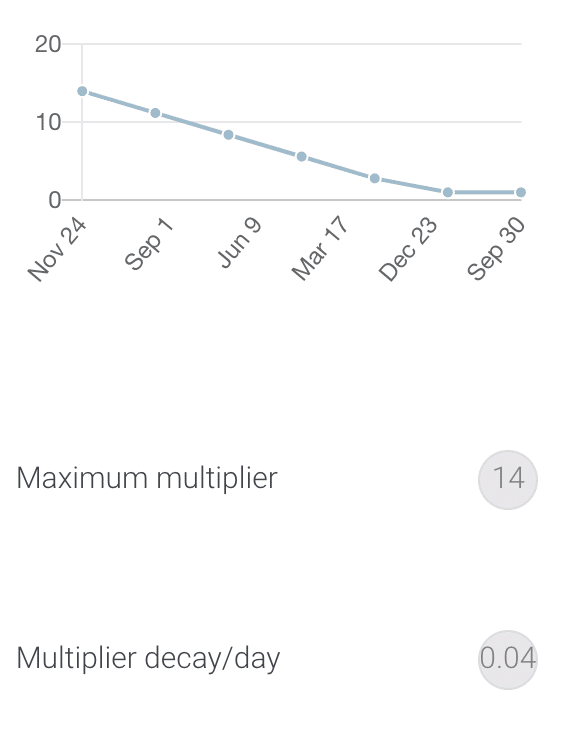 Find out more about using AddSearch Ranking Tools to optimize the display positions of content and further engage your users.
Boosting results with exact match
Sometimes people visiting your website search for multiple keywords and want a result that matches those keywords exactly so they find what they are looking for. This was a challenge for ECB, since users can search within thousands of pdf and word documents, where terms like "European" and "Bonds" are prevalent in most documents, obscuring the desired result.
With AddSearch's Exact Match boost function, you can select a multiplier for the Exact Match value to boost precise match results to the top of your search, and that's how ECB solved this problem.
In the example below, you can see how search results rankings change based on different values of the Exact Match boost.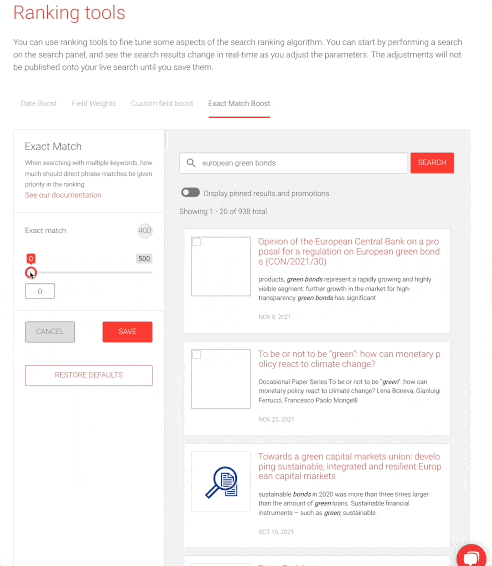 Showing cheapest items first and keeping relevancy
People look for lovely personalized presents during the holiday season – but need to keep an eye on how much they spend. However, a simple search result based on price often loses relevancy.
Take a look at the example below where the user is searching for a patchwork pillow. When search results are ordered by price, the pillow the user wants ends up being shown as the fourth result after less relevant options.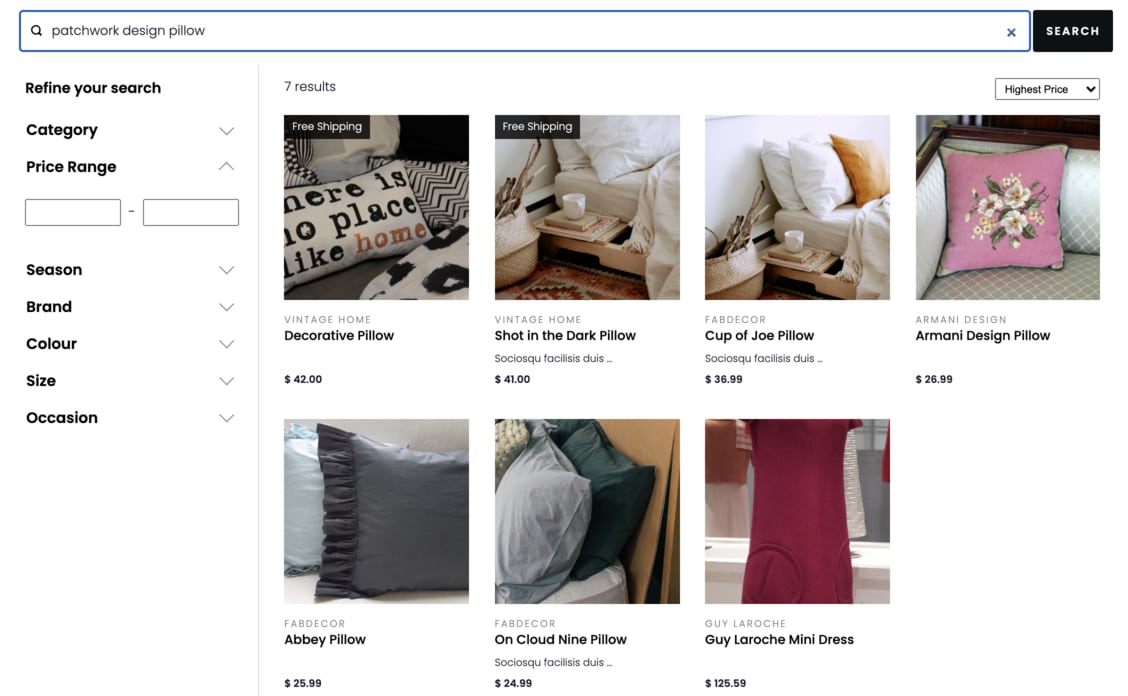 The AddSearch Custom Fields boost feature is built to solve exactly this problem! It allows you to select a custom field range (in this case, price) and amplify the visibility of documents matching that range.
In the example below, we have set up a rule to boost a search result with a $180 price tag by a multiplier of 1 and boost a search result with a $10 price tag with a multiplier of 170. Using this method, the AddSearch algorithm still considers the relevancy of the search results while sorting the products from lowest to highest price.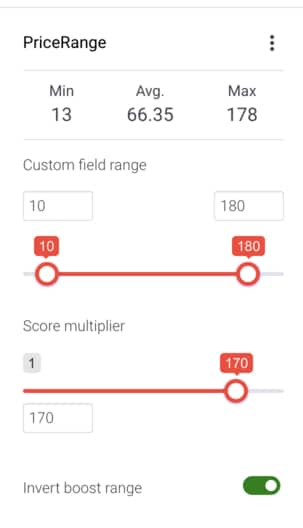 You can see below how the order of the results displayed on the website changes:
Keeping your content relevant based on changing trends
The same customer searching on your site for the same keywords, depending on when they search, can be looking for a different result. We have found that the most-clicked keywords for the same search results are quite different based on seasonality, which can change fast. Take a fashion retailer as an example: people who search for "shoes" would click on sneakers in summer more instead of boots, which they would select in winter. While it is possible to re-order product categories or use pinned results to address changing expectations, AddSearch Progressive Ranking provides an easier way to tackle changing trends.
Progressive Ranking is an AddSearch technology that leverages AI to find trends in your users' behavior. Based on the query and the position of the result they click or convert, it can improve your relevance by boosting results that are rising in popularity over a given period.
As part of our suite of Ranking Tools, we offer this feature that leverages the wisdom of the crowd to boost high converting content to higher positions.
Progressive ranking ensures that popular and trending search results will be featured at the top of the search results list and not buried at the bottom. In contrast, the outlier results with less relevant content will get demoted.
Winter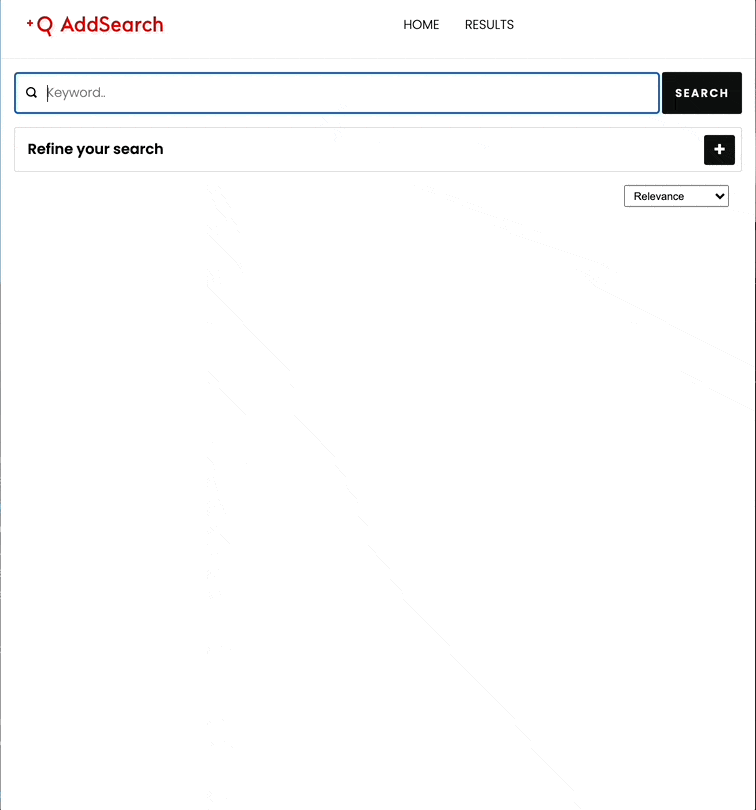 Summer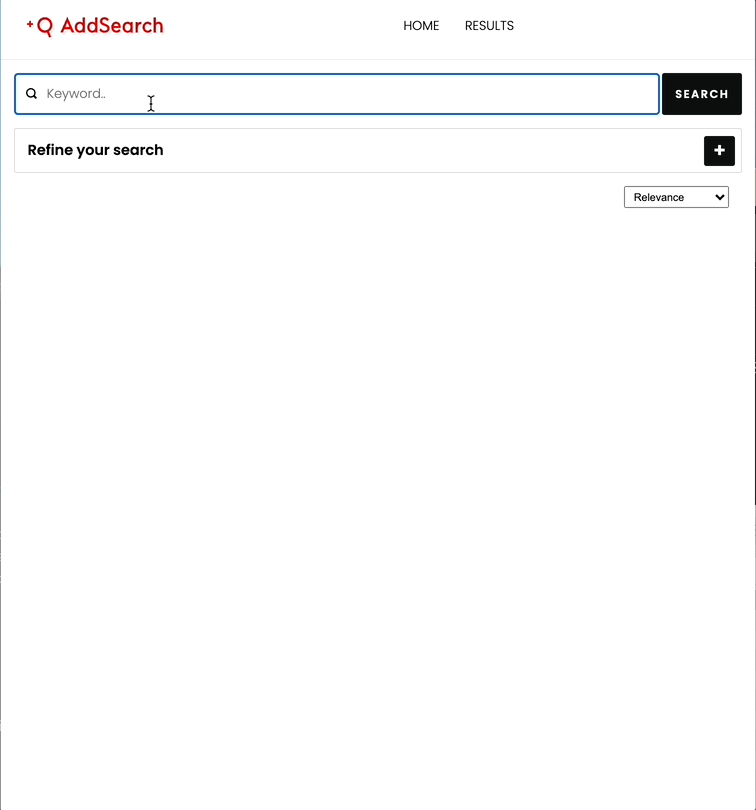 Read how you can help your search learn what your customers need and when they need it by setting up Progressive Ranking for your site.
Your site's visitors deserve a rewarding search experience that prioritizes the answers they seek. Harness the power of our suite of Ranking Tools to solve your search challenges and reap the benefits of more engaged users, more potential purchases, and higher satisfaction.
Was this helpful?
Let us know if you liked the post. That's the only way we can improve.