AddSearch and Algolia often stand out as market leaders for site search with powerful capabilities and enterprise customers. We are getting more and more queries about our search solution everyday from Algolia customers who are looking for a new site search solution. So in case you are looking for a search solution, here's an overview on how AddSearch and Algolia compare.
According to Capterra, one of the leading business software review platforms, AddSearch matches Algolia in terms of functionality: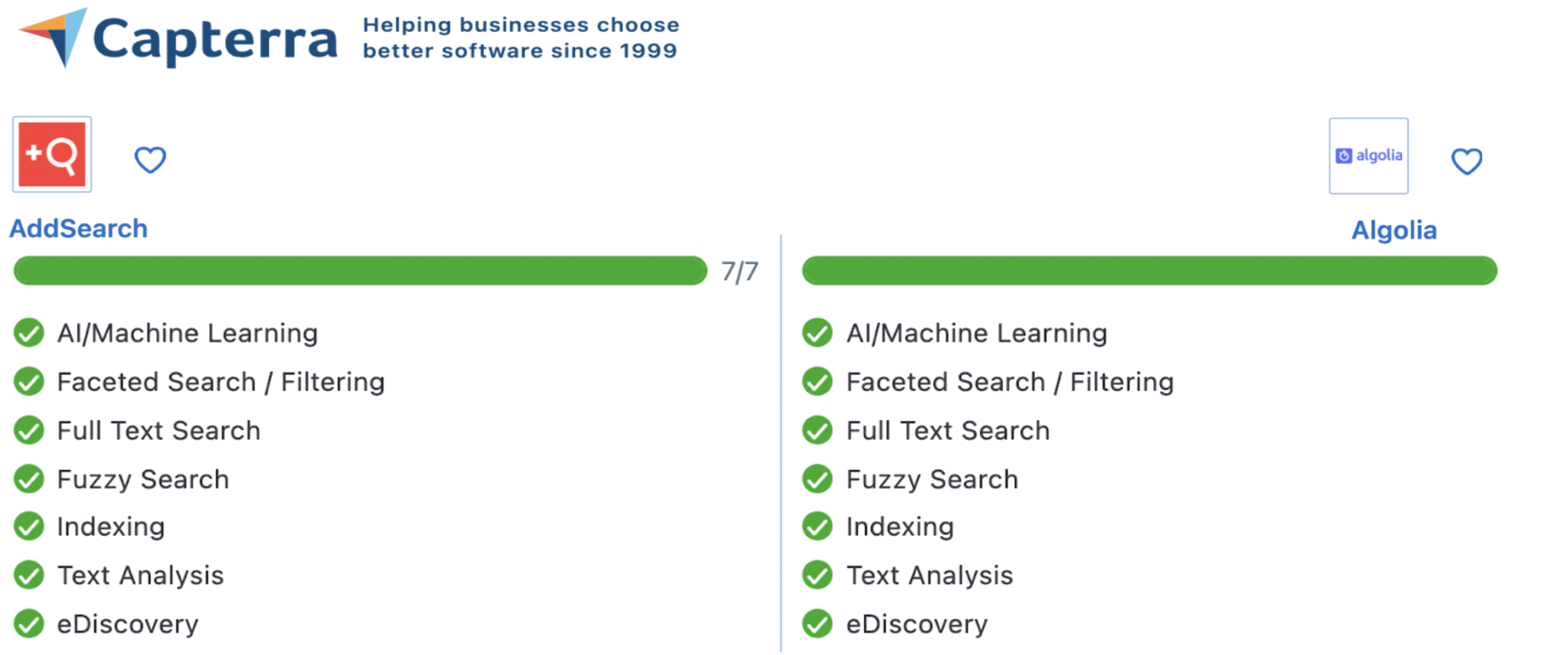 Furthermore, Capterra reports AddSearch having superior reviews compared to Algolia: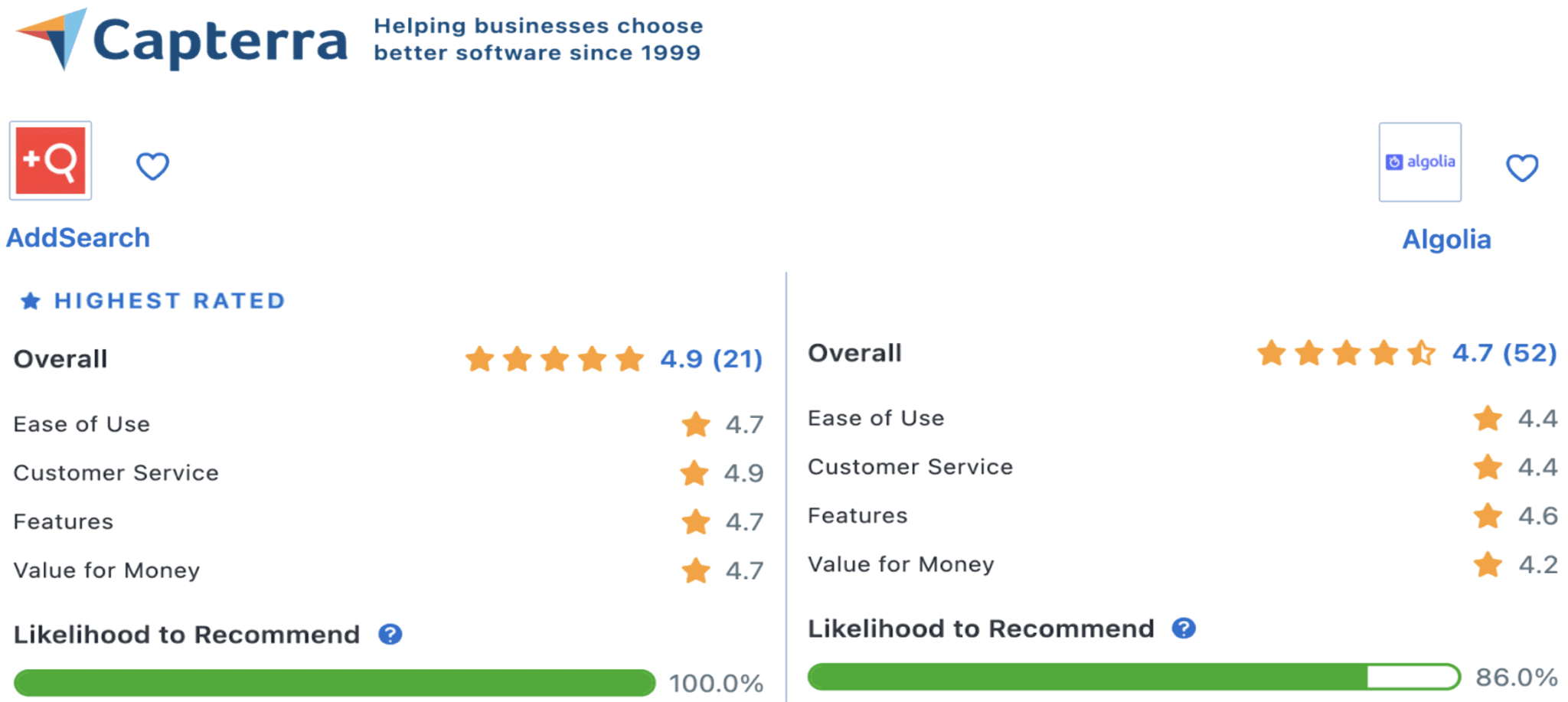 Although this is a quick read, you can browse through the different sections of this post using the links below:
Ease of Set Up: AddSearch vs. Algolia
Customers who go through the set up process of Algolia tell us that AddSearch set up works like a charm. Usually the set up is simple and fast for AddSearch. For enterprise customers with complex integration requirements, AddSearch provides an expert implementation engineer and UX designer who designs and builds the search solution.
Algolia's implementation is more complex and takes longer, considering the complex learning curve. The process to get it up and running is often found lengthy and cumbersome.

Customer Support: AddSearch vs. Algolia
Algolia provides customers with email support and refers users the community forum for the rest. Implementation support is as an add on upon request and you have to pay more to get it. AddSearch believes that all customers queries should be heard; that is why live chat is available during business hours for all time zones and it is always available and accessible from the dashboard for fast problem resolution.
Comments from Algolia users on the speed and quality of support is often seen in the reviews and on Algolia Discourse. On the other hand, if you check AddSearch reviews you will notice that AddSearch support team is highly praised by customers.
"We wanted a ready-made search product as we did not want to concentrate on optimizing site search by ourselves. We use a fairly standard setup with predictive search results and a search results page with content type filtering. About half a dozen of our sites are currently running AddSearch.

What we like the most is the fact that is actually provides relevant results and enables the site owner to meaningfully influence what is displayed to the users. We have liked the search and its intelligence as well as the good customer service accompanying it."

-Timo Salminen, Client Director, Karhu Helsinki

Karhu Helsinki is a digital agency with two decades of experience.
Pricing: AddSearch vs. Algolia
For pricing we have compared the premium packages of AddSearch vs Algolia. AddSearch has a cost of 499 USD for 500,000 queries which includes all premium features such as promotions, search suggestions, ranking tools and progressive ranking whereas Algolia cost for 500,000 queries is 750 USD per month. Below table is a comparison of what you pay vs what you get for AddSearch and Algolia Premium packages:
| | AddSearch Premium | Algolia Premium |
| --- | --- | --- |
| Price | $ 499 / month | $ 750 / month |
| Search queries | 500,000 / month | 100,000 / month |
| Analytics history | 365 days | 30 days |
| Dedicated Developer & UX Designer | | |
| Live Chat Support | | |
| Crawling | | Add-on |
| Search API | | |
| Search results management | | |
| Search filters | | |
| Synonyms | | |
| Multilingual website and language-specific features | | |
| Search suggestions autocomplete | | |
| Ranking by custom fields and tags | | |
| Promotions | | |
It is also important to emphasize once again the difference in calculation of search queries.
Algolia's users are faced with complicated calculations when trying to find out how much their search costs. AddSearch's pricing is transparent and easy to understand – there are no surprises. When exceeding quota, AddSearch doesn't stop providing the service, unlike Algolia's customers have experienced.
In addition to search queries you make, Algolia users also reported having no protection against bots which results in higher quota usage and higher charges. On the other hand AddSearch makes all efforts to make sure bot attacks are discovered early and are not counted towards your search quota.
Contact our sales team to explore how to increase conversions, reduce helpdesk costs and make your customers happy.


Summary
It is important to consider the following while choosing the right search solution provider:
Ease of Set Up: AddSearch goes the extra mile to make sure each implementation is a success by having dedicated implementation engineer and UX designer build and design your search solution.
Customer Support: AddSearch provides live chat support for all of their customers and do not make the customer suffer while waiting for an answer for many days.
Pricing: AddSearch is 33% to 50% cheaper overall in premium and enterprise plans and AddSearch does not stop your service for quota usage
Was this helpful?
Let us know if you liked the post. That's the only way we can improve.