A site search offers a huge potential for higher conversions and more sales on eCommerce sites. But still, the majority of websites do not pay attention to optimizing their site search. 
Site search is a critical feature on each website as you can guide your potential customers with high buying intent towards the product that they want.
Searchers have an increased level of intent in purchasing and they are seven to ten times more likely to convert. In addition, they make up 10 to 40% of all the users on eCommerce websites which results in 40 to 80% of your online revenue being generated by searchers.
How important is search in eCommerce?
Great site search is critical in getting paying clients but it's still undervalued. Nearly 84% of companies don't actively optimize or measure their on-site search performance which means that there is a huge potential for growth. 
If this isn't enough to convince you yet to pay attention to improving your site search, happy shoppers also buy more per visit and come back sooner to shop again. Your site search tool is the gateway to your products and decides if you have happy returning customers or frustrated leaving visitors. 
Any customer that can't find what they are looking for is a lost customer and given the omnipresence of major site search engines such as Google, customers have high expectations when it comes to search functionality. 
Just as with a great salesperson in a store, the quality of your site search plays a vital role in how likely your customers are to find what they are looking for, look around, purchase what they are looking for, and even splurge for other items. 
The most deciding factors are that your search engine understands the visitor's input, offers relevant results, and gives those results fast. Your site search needs to know how to sell – after all, it is ultimately a conversion tool. 
That is why we collected 9 best practices on how to implement site search on your eCommerce website.
9 eCommerce search Best Practices
Let's take a look.
1) Make Your Site Search Visible 
Your site search should always be highly visible as you want your users to be able to intuitively find it. As a standard, it should be above the fold and be prominent. The site search box itself should be big enough for typical queries depending on the products you offer.
For instance, if you offer electrical products that have a long product code, your site search should be long enough for them. You can also add text inside the search box to encourage searches ("Enter Product, Brand Name…" ). 


2) Offer relevant Metadata to your Products
Your metadata is your search engine's way to find any product. Make sure that when you fill out the metadata for your products such as tags, titles, descriptions, categories, attributes, etc., you include all the keywords that clients might use looking for it. Be aware of the language your client uses.
3) Offer Autocomplete
Many shoppers don't always know the product name or the right spelling. Sometimes, they might not even know the name of the product they are looking for. Your site search should be smart in anticipating where the search is headed and offer suggestions while your user is typing. Autocomplete is a great feature to prioritize certain results and serve the most likely product first or promote a certain product. 
Results should be optimized for the terms the customers use and not the industry jargon (except for any B2B sellers). Always make sure to speak the language your customer speaks. With autocomplete, you can also avoid "zero results" pages since the user already sees what is available and what isn't. Autocomplete also helps with any problems with misspellings. For example, if a user only knows the beginning of the word, it can help them find the search term they want.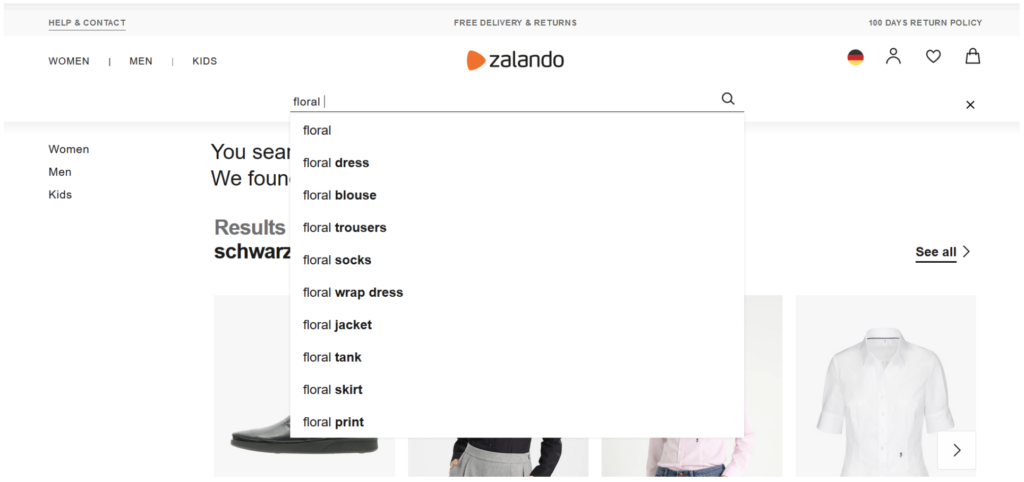 4) Spell-Check and Typo
Your site search should be capable of handling the most common misspellings and offer a robust spell-check to maximize the chances of your user getting the results they want. You want to avoid your visitor ending up on a "zero results" page without any suggestions on whatever typo they might have made.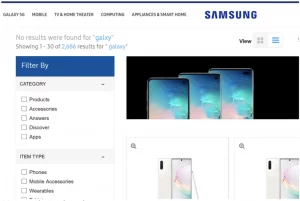 5) Optimize for Mobile Search
Many of your website visitors will use mobile devices to explore your website. If you make it easy for them to find what they are looking for, they're more likely to go from just browsing to buying. As mentioned above, a prominent search box can be a deciding factor on higher conversions, so you want it to be even bigger on mobile given that the screen is small, and typing is harder on a mobile screen. 
Relevant autocomplete suggestions and fast return of results are essential in keeping your visitor on the site.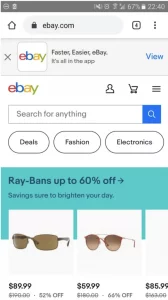 6) Offer Contextual Filters 
Filters help your visitor to sort through your product catalog with the least amount of effort. Filtered navigation and faceted search is a must for eCommerce with a substantial product catalog. They offer flexibility to the client to choose what is most prevalent for them in deciding on a product based on their preferences. Ideally, your filter options are easy and relevant.
Common filters include: 
Price 

Brand

Color 

Type

Review or Rating

Department

Context (for instance

party, casual

or

holiday outfits

)
When you configure your filters keep usability and the customer experience in mind. Many users want to sort by prices (low to high) or relevancy and reviews. In general, the more filters you have, the better, even though it depends on the size of your product range (you do not want to overwhelm your customers with unnecessary filters) 
With a big product catalog, filters should be adjusted depending on the keyword. If someone looks for a pan, they will look for different brands than when they look for a smartphone.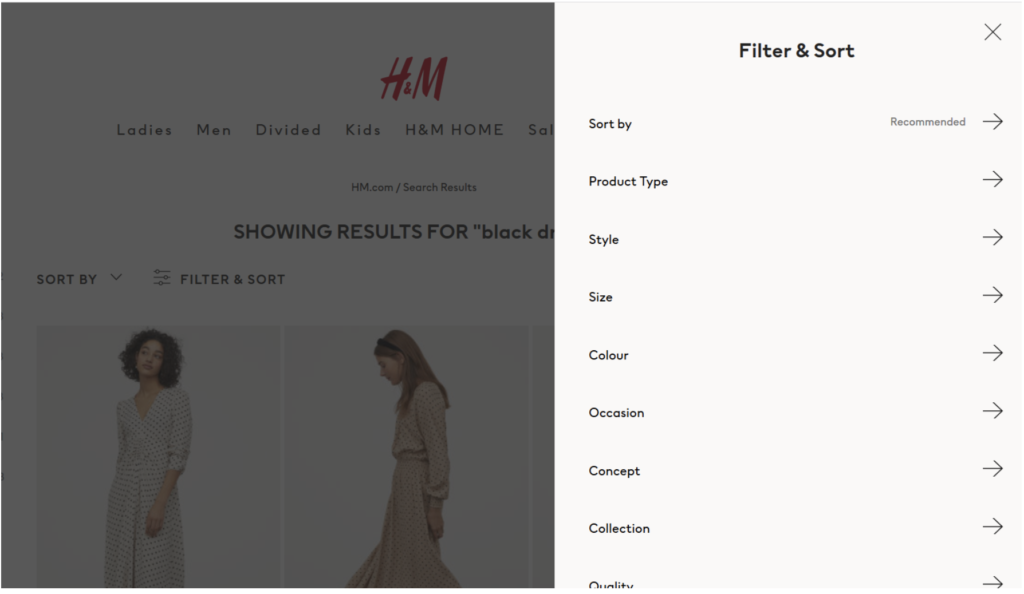 7) Use Analytics to Optimize Your Site Search Experience 
This is the deciding factor in having a great site search or a mediocre one. You get a vast amount of data from your site search that shows you what customers are looking for (in their own words), which results they are shown and when they stay or leave the site.  
Consulting your insights and monitoring your data is a vital part of offering a great site search experience. Ideally, you should check your metrics at least once per week (depending on the size of your eCommerce store) to be aware of any trends. Search optimization is not a one-time thing but a constant task. 
When assessing the data look out for: 
Search queries with low CTR 

Search queries with "next page" clicks: user probably didn't find results on the first page

Search queries with zero results: a user couldn't find any product

High percentage of search refinements: user didn't find results on the first attempt but are encouraged to keep on looking

High percentage of search exits: users are unhappy with search results, potentially getting irrelevant results and give up due to bad customer experience 
Ending up on a zero results page is particularly frustrating for customers (for instance because a product is discontinued, out of stock or not available in this store). To higher your chances of converting these customers, show "related products" or inform your customers that something is temporarily out of stock. 
Site search data is also a powerful tool for any marketer because the customer will tell you what they are looking for in their own words. These words can influence what kind of copy you include in your marketing campaigns.
8) Personalization 
Personalization is a great tool to improve your conversion rates. You can personalize the search results of your users based on their browsing history. Depending on their level of interest in a product or a brand, you can suggest relevant similar products or other products from this brand to the user, for example. You can also offer complimentary items or upgrades using suggestions such as "you may also like", "similar items" or "customers who bought x, also bought y".

9) Merchandize Your Search 
If you want to upsell your customers, merchandising your search is a great tool. When your customers search with a given keyword, their query offers more profitable products in the search results. Visitors might have not considered the higher price product but seeing it alongside the more common options could encourage them to splurge for this product. 
Another way to merchandize your search is to include clearance items with a special tag or info to encourage customers to buy them. Promotions are also a great way to higher your conversions by promoting certain products and content based on the search query.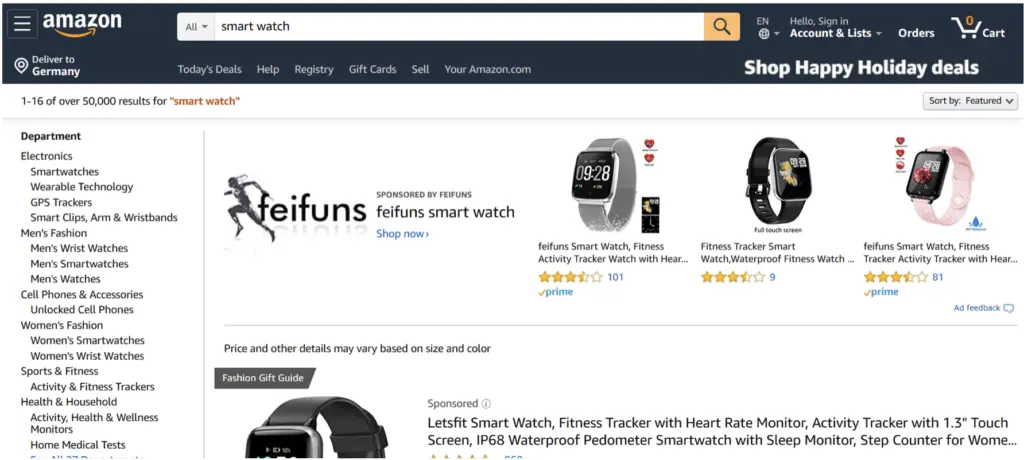 Was this helpful?
Let us know if you liked the post. That's the only way we can improve.