I have a question for you: How can you improve your website's user experience and increase your users' satisfaction with your services sustainably? You can probably name a lot of good answers right away. But is optimizing your site search one of them? Unfortunately, site search is often overlooked by many e-commerce websites, although it can significantly improve user happiness and a website's success. And that's why we're going to reveal 7 site search best practices to help you get more out of your website. Interested? Then here we go!
What are the benefits of using site search and does really improve UX?
Have you ever wondered if your site search could do more for your users and your business? Perhaps you've never thought about this question. After all, site search optimization is rarely the first thing that comes to mind when trying to improve a website's user experience. However, site search is becoming increasingly important – not only for e-commerce websites. Most modern companies that offer content and other data on the WWW need to deal with the topic.
The more content you have and the more diverse it is, the more critical a site search becomes. Most users already know what they're looking for, and they want to get there as quickly and effortlessly as possible. This is precisely when site search comes in handy.
Without (or with a poorly implemented) site search, users may struggle to find essential information and continue searching elsewhere – probably on your competitor's website. Working on site search is just as important as working on other parts of your website.
What are some site search best practices?
Take your website's success into your own hands by considering the following 7 internal site search best practices and implementing them according to your specific use case. You'll be surprised at what you can achieve!
AddSearch tip

If you are new to the world of site search, the topic can seem a little overwhelming. You may be wondering whether your website needs a search or how to choose the right search solution.

We can assure you that the subject will become much clearer with solid base knowledge. Start ramping up your site search know-how by reading our blog post on what site search is and how it can help you.
Know how your site search can and should help you
You hardly want to spend time improving your website without knowing whether your hard work is paying off, right? That's why it's a good idea to spend time planning and strategizing before doing anything else.
Getting closer to the optimal site search setup for your specific use case requires you to ask the right questions:
What do your users and your company need?
What's the current status?
What's your vision for site search?
What do you want to achieve?
How can you track progress towards your goals?
Talk to your team, interview customers if possible, and analyze your website data to learn more about user behavior. Then, explore how site search can help your users and your business and set measurable goals.
AddSearch tip:

Note that working on your site search is usually not a massive project. This is good news because it means that you can get significant results with little effort. However, this doesn't mean you should rush through the process! Take your time – especially during the planning phase – and collect your thoughts and ideas. Ultimately, you can save resources by identifying and fixing flaws or impracticalities in the project's early stages.
Having a good plan and sticking to it can help you go through the search implementation project with confidence and continue to optimize your search successfully. Would you like to learn more about the topic? Then head over to our blog post "How to add a search bar to your website," where we talk more about the planning phase.
Create an intuitive search bar
What makes a search bar great and intuitive? Rest assured; there're a few things that you and your team should keep an eye on. In any case, it's a good idea to create wireframes before you start designing and implementing your search. This allows you to focus on functionality, user flow, and user experience before creating high-fidelity designs and possibly getting lost in details.
AddSearch tip:

Your search bar is as unique as your ecommerce website. Therefore, try to keep in mind that what works for others may not work for you and vice versa. Collect inspiration by looking at other websites and how they do the job. Use your insights to create a search bar that fits your website, business type, and users. You can find more tips in our blog post on building a great search UI, in which we talk more about site search design best practices.
Let's talk about some other areas that require your attention in order to create an intuitive search for your website:
Search position. Typically, the search bar should be easy to find and where users expect it to be. If you look at other sites, you can see that many place their search inside or near the main navigation. Depending on how essential search is for your website, a more prominent presentation can be helpful.
Accessibility & inclusive design. Depending on the country you are in, your website may have to meet specific accessibility standards. Additionally, you surely want to provide your entire user base with a seamless experience, regardless of their background or needs. When dealing with accessibility, you also get the opportunity to experiment with advanced technologies such as voice-assisted search.
Search bar icons and labels. Make sure you use familiar symbols and copy (text) for your search bar. Using your website's search should be a no-brainer, so, for example, use the magnifying glass icon and use words like "Search" for the submit button.
Design and optimize your search for mobile devices
50.44% of all global web traffic is mobile – and this number is continuously growing. Hence, optimizing your website and site search for smartphones and tablets is a must if you want your business to remain relevant in the coming years.
A proven and popular way to ensure mobile excellence is to follow a mobile-first approach. This means that you start to design and implement your search for mobile devices to ensure that you provide an excellent user experience. When developing for mobile devices, keep in mind that users use their phones differently than their laptops, for example. Test your search with the integrated voice assistant and use mobile UX/UI elements familiar to the user. Finally, revise and optimize the results for desktops.
Again, visit other websites on your smartphone and your laptop to get inspired. Concentrate on how search looks with different screen sizes and learn about different display options you can experiment with.
Always deliver relevant search results
Make sure your users get results for their search query – the more relevant the results, the better. Preventing zero results is an ongoing process and requires your attention and regular input. Let's see what you need to take into account:
Synonyms and typos. Your users are likely to use different words to describe the subject of their search. They may also misspell phrases now and then or press the wrong keys. Typically, your site search solution only works optimally in these cases if you train it accordingly. To do so, you need to actively analyze your users' search behavior. See what queries they're using and store them as synonyms and typos in your site search solution.
Auto-complete. On mobile devices, in particular, we are used to not having to type whole words. Usually, the search engine or our smartphone's keyboard provides us with some writing suggestions from which we can choose. If you offer auto-completion, you can help users find what they're looking for faster and reduce the number of failed searches due to misspellings.
AddSearch Tip

If your users still often don't get results for their search – even though you worked on the points above – your website may lack content. This means that you either need to optimize existing content or create new one. We'll talk more about this below in our site search best practices # 6.
Help users find valuable content
The more content you have, the more difficult it can be for users to efficiently find relevant content. In this case, filters and sorting options to fine-tune search results can help them reach their destination quickly and intuitively. Naturally, you don't have to go overboard with the number of options. Depending on your content, the amount of content, and the versatility, you may only need a few filtering and sorting options. On the other hand, if you sell furniture online, for example, sophisticated filter options for color, price, material, etc. are necessary. Evaluate your content and user behavior to discover the right solution for your use case.
Another great way to help users find valuable content is to offer auto-suggestions in your search bar. If you look at Amazon's website, you can see a great example of how auto-suggest works. Enter a keyword into the search bar, and you will immediately receive a list of possible queries to choose from to quickly find the product you want. Remember, the easier it is for visitors to search, the better!
Optimize your content for search
The best website search solution can't help you if your content isn't optimized for search. Let's discuss the two main reasons why users don't get relevant results despite optimized site search.
You need to tweak your content.
As mentioned earlier, one of the reasons why users don't get results is because your content is lacking. To solve this problem, you first should look at the keywords your users are regularly using and determine whether you offer matching content. Then you will see whether you need to update existing content with particular keywords or create new content.
See this as the perfect opportunity to learn more about your users and their interests! By making your content more relevant and findable, you increase your visitor's satisfaction and thus also boost conversions and brand loyalty.
You need to restructure your content.
Rest assured that your site search software is doing its best to crawl and index your content, but you can't expect it to think like a human. For example, if you provide users with filters for price ranges, your site search solution must be able to access and read your products' price data.
For that, the corresponding data must be labeled accordingly – how this must look exactly depends on the solution used. However, your solution provider will be happy to assist you! Eventually, you may need to restructure your website's HTML to make the necessary data available for search.
Analyze, measure, tweak, repeat
Unfortunately, it won't be enough to integrate search into your website and hope for the best. Surely you also want to know about your goal progression and check the search's performance and success.
Make sure that you can connect your website search solution to your analysis tool, such as Google Analytics. As a result, you can gain more detailed and insightful data about click rates, conversion and consumption rates, bounce rates, etc.
Keep an eye on the metrics and your visitors' behavior and use the gained knowledge to tweak your site search accordingly. Think of it as an ongoing process:
define goals
monitor and analyze search data
optimize content and site search settings
observe the impact of your changes
check goal progression
start again with step 1
AddSearch Tip

As you delve into monitoring and optimization, you will find that there are many things to keep in mind. Naturally, using a suitable site search solution that provides you with valuable analysis data and that you can connect to your website analysis tools is invaluable. Check out our blog post on measuring website search success, learn more about the most critical metrics, and increase the success of your site search.
3 Examples of Site Search Best practice in action
HOMEY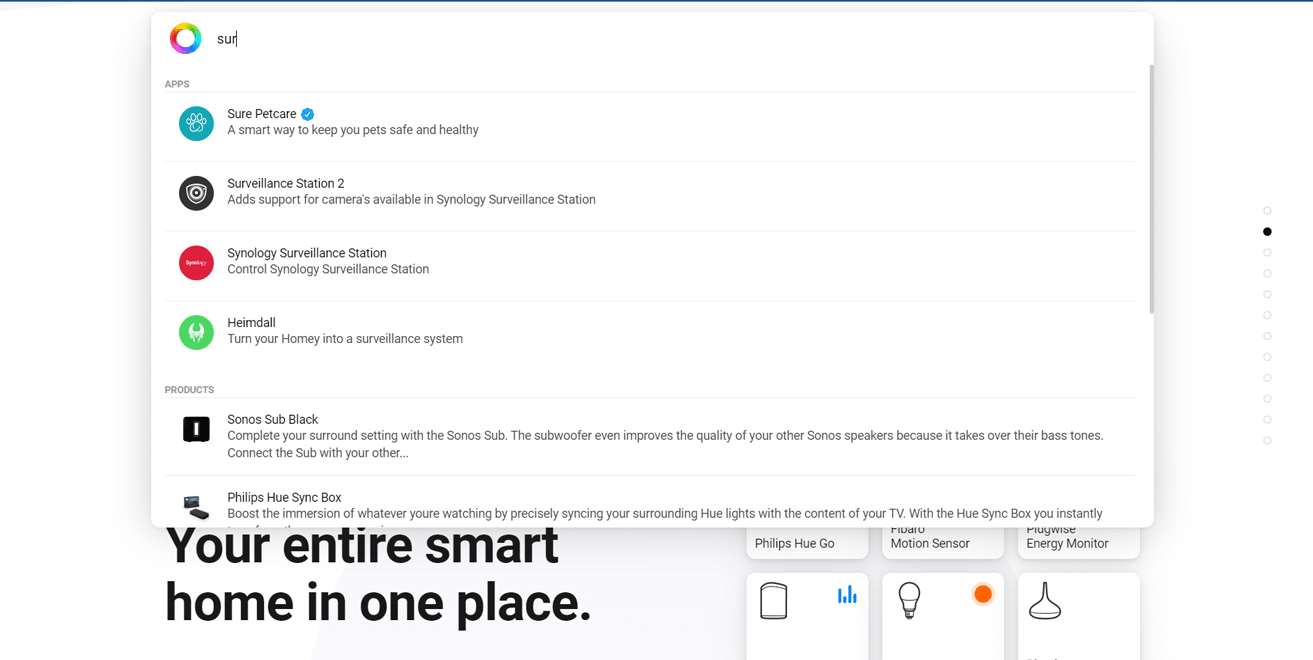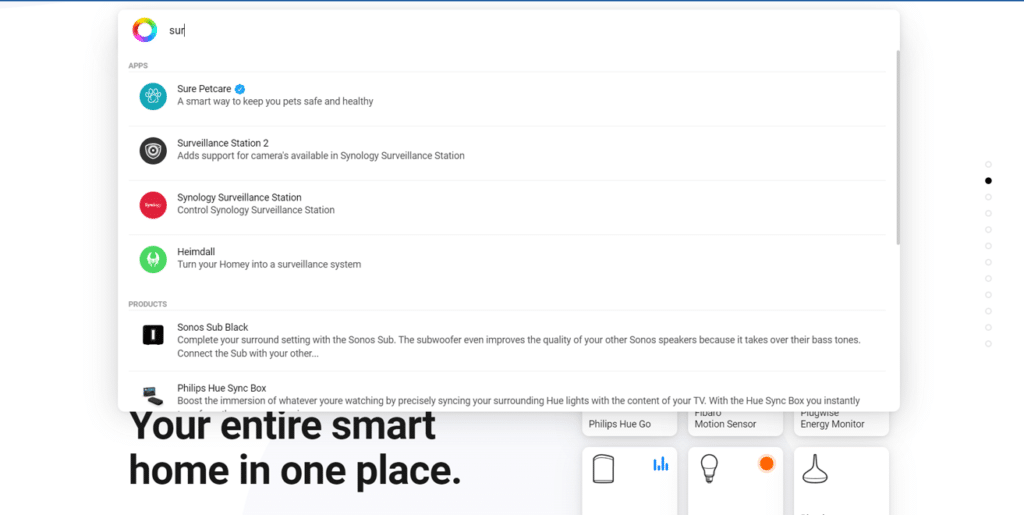 Homey implemented an intuitive search design to their website. It remains visible and accessible while the user scrolls through the site. The search also provides a search-as-you-type solution which makes navigation and discoverability on their e-commerce platform a breeze.
Robert Gordon University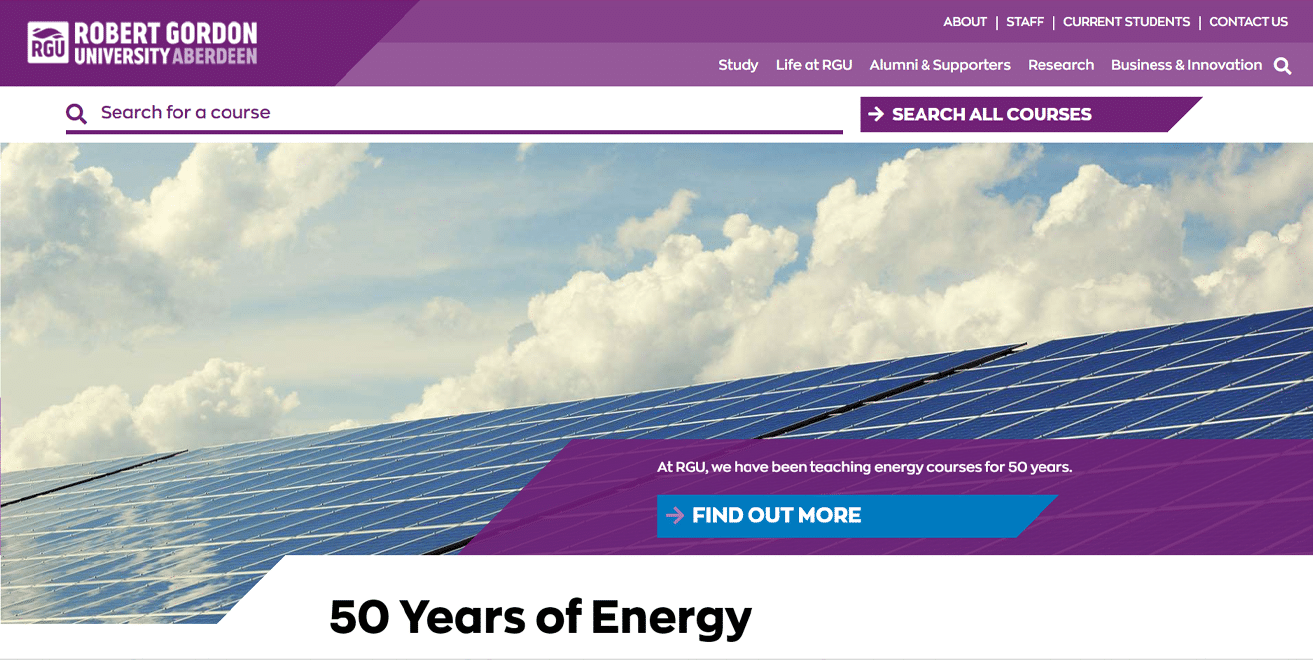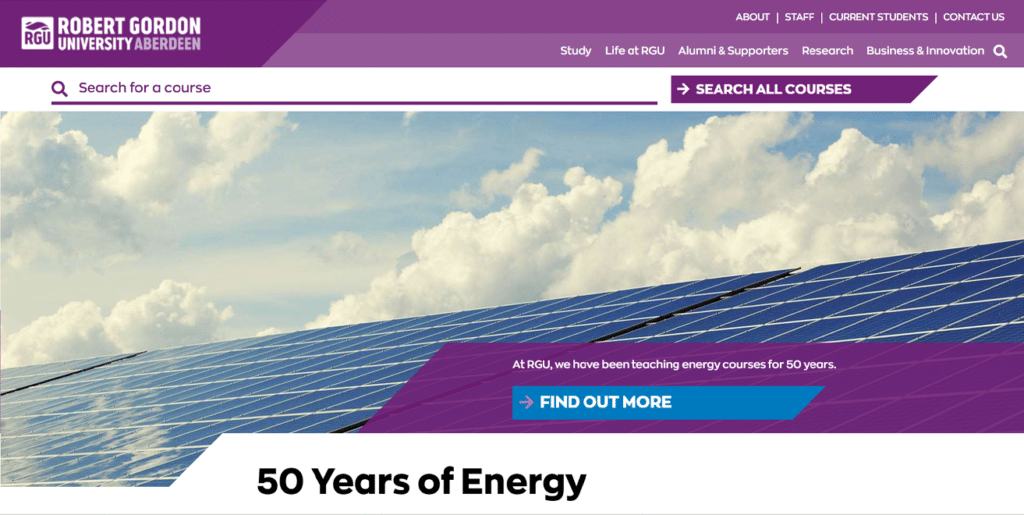 Robert Gordon University a leading public university based in Aberdeen, Scotland, has 11 faculties that offer over 200 courses. The RGU website, in addition to the primary search, added an additional bar to specifically help prospective students easily navigate their extensive catalog of offered courses to find the exact program they might be looking for.
Nintex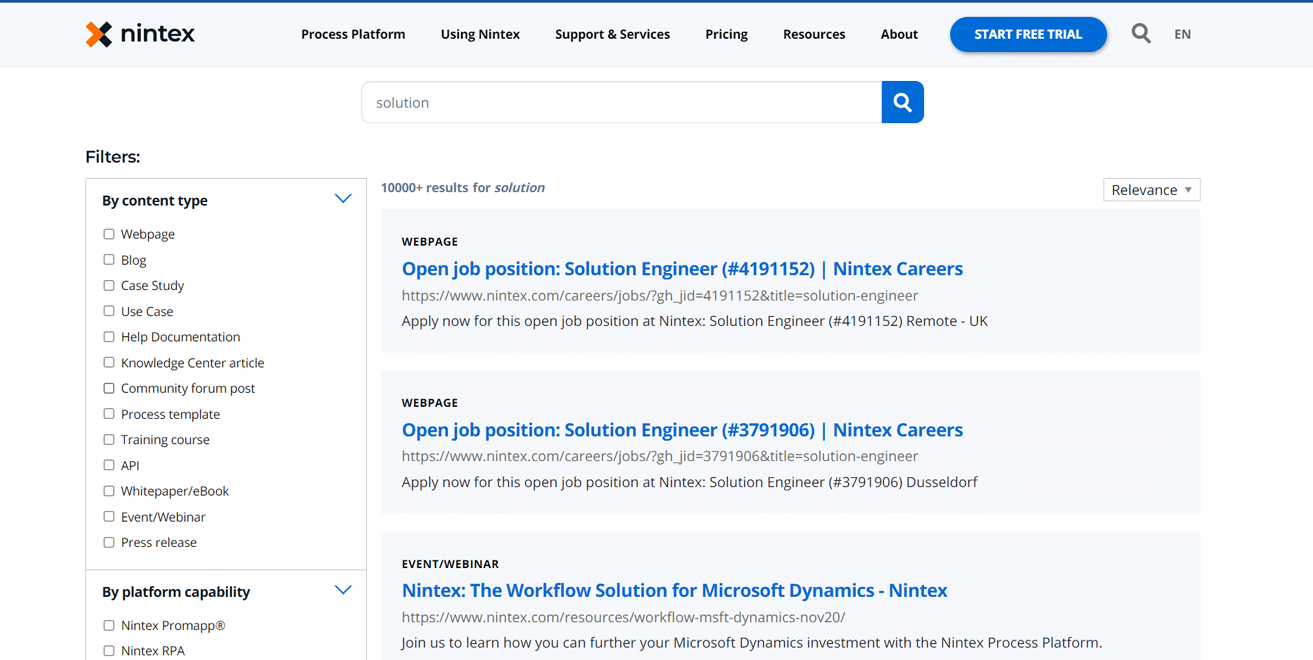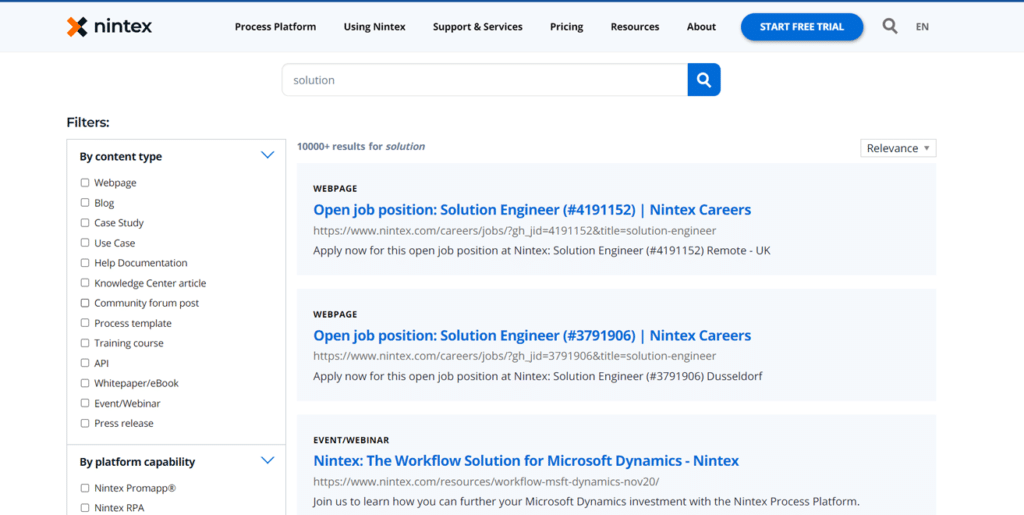 Nintex uses faceted filters to help users with cross-domain search results, simplifying it for users to find and navigate to content across Nintex's several subdomains.
Summing it up
What makes a good site search?
A great site search function is one that is specifically tailored to a website. It intuitively assists users in searching a website's content or product catalogs with speed and accuracy while providing site owners with valuable and actionable user data that can help guide and inform SEO strategy.
What can site search offer e-commerce websites?
Having an on-site search feature is a great advantage for your e-commerce store, not only because it enables highly-motivated consumers to find what they want quickly—it also collects crucial data about what products and services your clients want, how they refer to them, and how you can tailor your service to suit them specifically.
Why is site search important?
Site search offers an improved user experience, resulting in increased sales as it allows customers to locate what they want more quickly.
Where to go next?
If you follow our 7 internal site search best practices, you're on the right path to more satisfied users and closer to achieving your business goals. Keep in mind that even the tiniest changes in user experience can significantly impact your entire website. By monitoring site search metrics continuously, you can see whether your efforts are paying off and start planning your next steps. Happy tweaking!
If you need further assistance in enforcing our site search best practices, contact us, and we'll be happy to get you started!
Contact our sales team to explore how to increase conversions, reduce helpdesk costs and make your customers happy.


Was this helpful?
Let us know if you liked the post. That's the only way we can improve.