Most organizations can improve their websites by implementing a simple 5-minute "hack".
This hack works regardless of whether your website is focused on bringing leads and sales, providing customer service, or even if it's your municipality's website.
The hack is called site search.
Without proper site search, your website could be leaking sales or in other ways end up costing more than you realize.
Put simply a visitor who cannot find the information they're looking for on your website is unlikely to convert – and similarly, customers who struggle to find solutions can also generate costly support tickets and calls.
Many businesses and website owners neglect site search, and even fewer give it the resources it truly deserves. This can end up costing them dearly.
Bad search likely costs you sales and leads – without you even knowing it
AG Consulting has discovered that visitors are most likely to use search when they're looking for specific information, or when they can't find what they're looking for through regular navigation.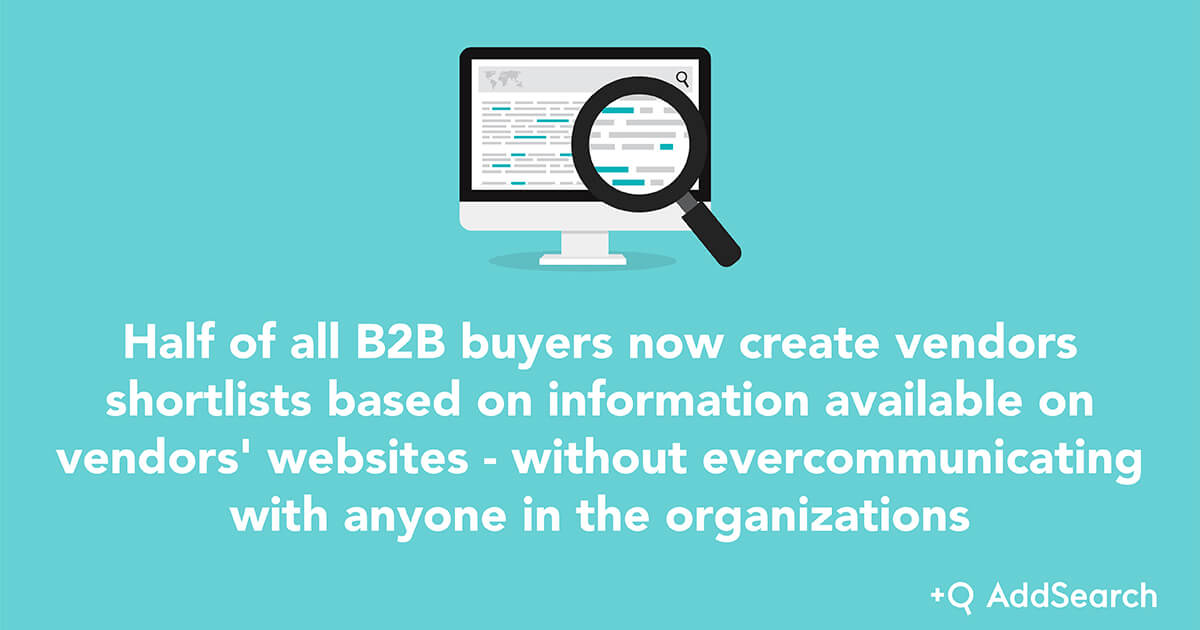 According to Forrester Research, half of all B2B buyers now create vendors shortlists based on information available on vendors' websites – without ever communicating with anyone in the organizations.
If you don't make the information easily available, these prospectors may never find the information they're looking for, resulting in your company not making the cut. A lack of great site search tools could cost you sales and leads without you even getting the chance to make a pitch.
Search users are among your most valuable users
For ecommerce and transactional websites, search users are among the most valuable users to visit your site. Site search users are usually in the later stages of their own buying cycle. They've gathered the information they need, and they're now comparing providers in order to make a purchase. In other words, they know exactly what they want, and they're on a mission to find it.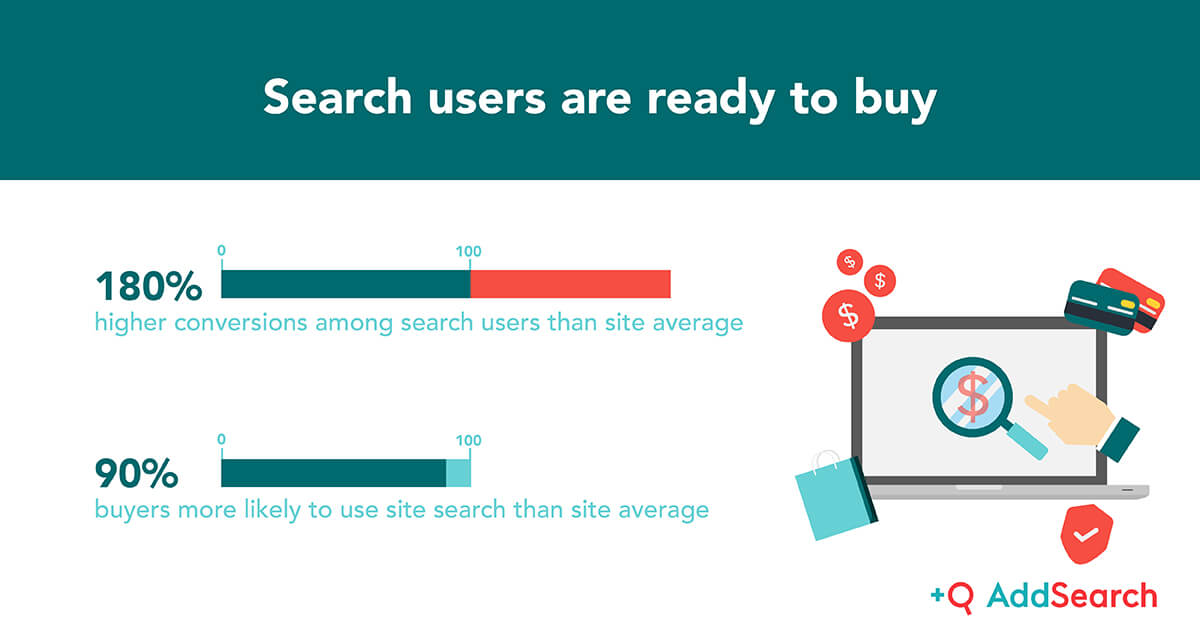 eConsultancy reports of a study examining site search usage on more than twenty niche ecommerce websites. They found:
When the search is used, it increases conversions. Average conversion rates across all websites measured in at 2.77% – but site search users converted at 4.63%. The site search is 1.8x more effective at producing conversions.
Site search users are also likely to buy more. 5.75% of all overall visitors used site search – but those visitors accounted for 13.8% of total revenue.
Additional research by BloomReach has shown that 15% of total visitors use site search, but these visitors account for 45% of all revenue.
Studies have also shown that it's not enough to simply offer site search – you must offer customers a high-quality search experience, or risk losing them. Forrester reports that as many as 68% of shoppers would not return to a site that provided a poor search experience.
Potential customers can now use the site search to evaluate your entire product offering, based on the information you offer online. Make sure they can find what they are looking for.
Good site search improves customer self-service and reduces costly support tickets and calls
A study by Parature showed that 84% of customers want to solve their own problems using search engines. They're keen to use self-service to find their own answers, before reverting to raising support tickets or calling customer service departments. These can be costly and time-consuming – not only for your business but for your customers, too.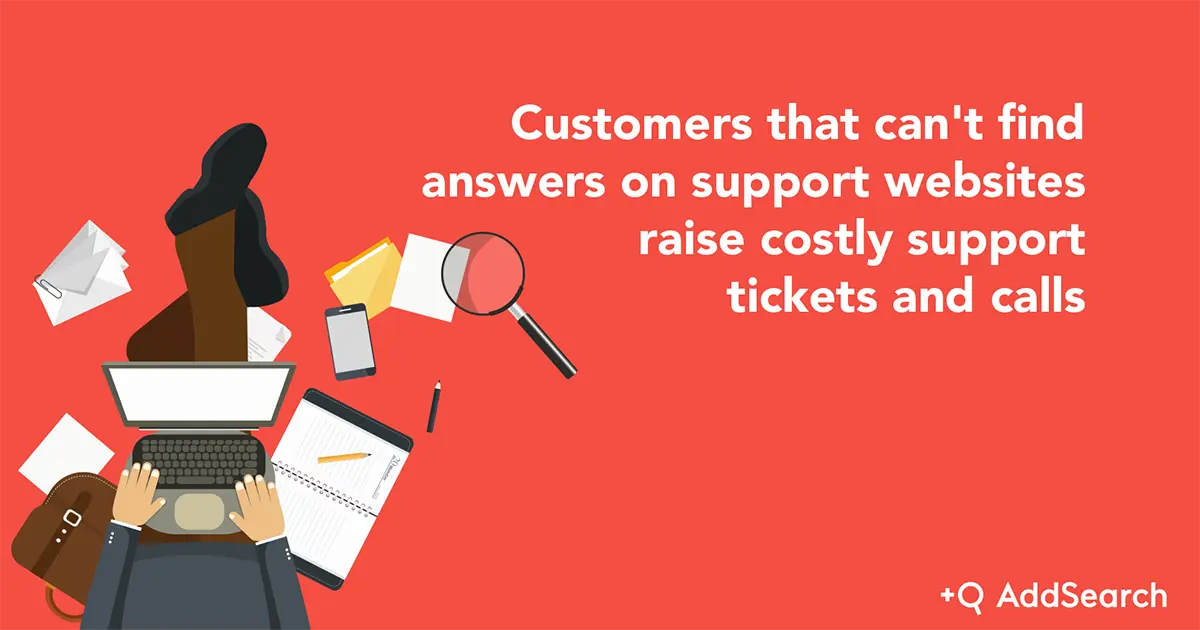 Good site search improves your visitors' ability to find the answers to their questions, boosting your customer support capabilities enormously. 41% of users have said the most important aspect of good customer service is getting issues resolved quickly. Site search gives your customers the tools to do just that.
Site search is also vital for public organizations
Site search is incredibly useful for business websites, but public organizations are also discovering the advantages of these tools. Public organizations and municipalities face an array of challenges when building their websites, including:
Providing up-to-date, accurate information for users
Making enormous amounts of information accessible and easy to find
Cultivating a sense of trust with users
Giving users the tools they need to sift through these colossal databases and find the information they need is essential.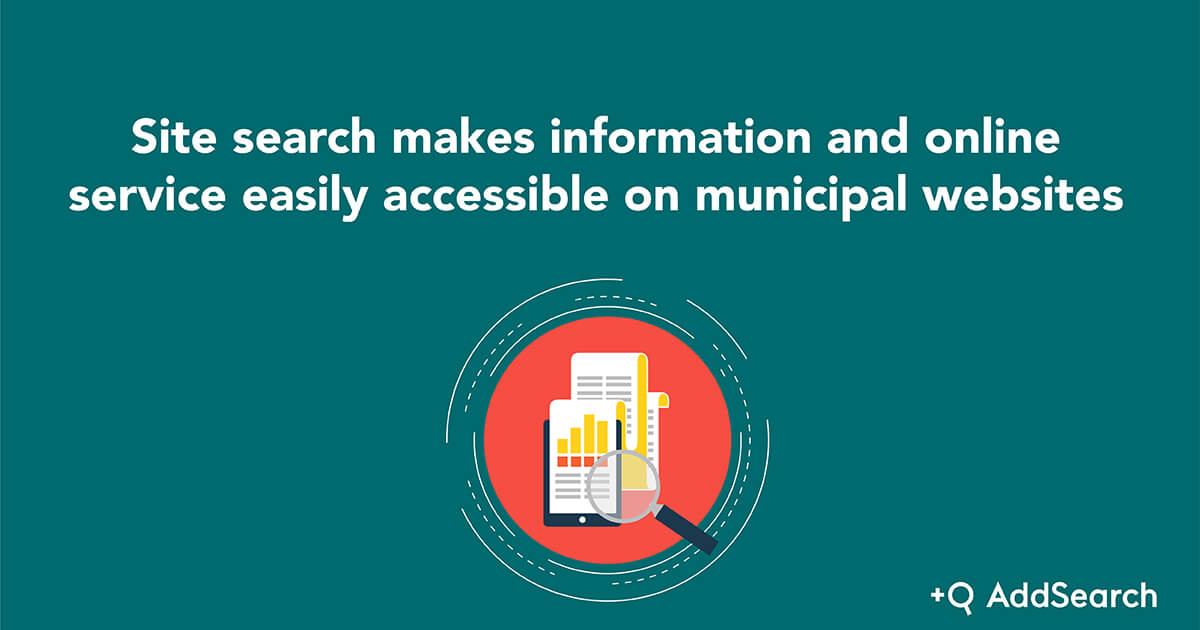 A 2012 study by Auburn professors found that, as with online businesses, if users can't find what they're looking for, they're more likely to revert to 'traditional' means of communicating with a public organization, which can be extremely costly. Fielding telephone calls and dealing with citizens face to face strains limited budgets unnecessarily – considering that the same information and services could have been delivered online.
Good website usability has been proven to increase users' trust in a governmental or municipal website. The professors at Auburn also conclude that site search is a vital part of that good web usability that creates a sense of trust and reliability.
Common site search mistakes
Despite so much evidence that shows how vital a good site search is, millions of websites still provide the most rudimentary search options for their customers. Some of the most common site search mistakes include:
Being unable to adapt to synonyms or alternative phrases for the same products. As many as 70% of site search tools require searches in the website's own jargon.
Not having the ability to translate abbreviations or symbols. 6 in 10 site search options are unable to tell the difference between the word 'inch' and the inch symbol – ".
Autocomplete problems. Autocomplete or auto-suggestion tools can be great if used appropriately, but 36% of websites that use autocomplete have serious usability and relevance issues.
Keys to the good site search experience
We've established that a great site search experience can increase revenue and reduce costly support tickets. So how can you make your users' site search experience the best it can possibly be? Kath Straub advises to:
Make relevant results your highest priority. You should be aiming to ensure that users find the right results for their search on the very first attempt.
Understand the terms your users are searching for, and make provision for those.
Help your users to better formulate their search queries by providing templates or collections of pre-selected popular keywords.
Be sure to accommodate typos, spaces, punctuation, symbols, synonyms, alternative phrases and common spelling errors.
Don't rely on your advanced search features to give users what they want – visitors shouldn't have to dig that deep into your website to find what they need.
Was this helpful?
Let us know if you liked the post. That's the only way we can improve.