These days companies have accumulated content that is fragmented over multiple platforms. You might have a blog on WordPress or Medium, Helpdesk on Zendesk or Intercom, products on Shopify and many more.
How do you make sure your customers find what they search for?
What is federated search?
Federated search is a technology that allows for the simultaneous search of multiple queryable resources. A user makes a single query and gets aggregated results from multiple platforms.
Whether you are looking for federated search as internal (or enterprise) search or a website search, the obvious benefit for your customers or employees is having all the content in one place.
You don't need to jump back and forth across multiple platforms to find the answer.
What are the benefits of using federated search?
There are many benefits of federated search, but for brevity sake lets look at a few key ones.
Bring all your information under one search.
In the battle of federated search vs enterprise search, when it comes to a search where results are pulled from multiple internal and external sources, the federated search tools always win hands down.
According to SaaS trends, the average employee uses at least 8 SaaS apps in 2019. As the number of platforms and services used by companies rises, fragmentation of content has become a common problem.
Improve the findability of information and content, to save money and increase profit.
All the platforms contain specific content all of which is vital to the sustainable functioning of the company. CMSWire published that workers, on average, spend 36% of their day looking for and consolidating information. But 44% of the time, they can't find the information.
Federated search is a huge time saver.
One of the most notable benefits of the federated search tools is that it saves the searchers time as all of the search results can be found using a single search solution.
Increase the user-friendliness of your website or internal systems.
Information is only as useful as how quickly you, your team, or your customers can access it and benefit from it when it is needed. Federated search solutions ensures that instead of having to search through multiple platforms and services, users are empowered by having a single point of access for information from across your organization. It also reduces friction in your website by giving your customers a simple way to get what they want and convert.
Why do you need federated search engine?

Bring all the information together under one search
Federated search is a huge time saver
Increase the user-friendliness of your website or internal systems
Improve the findability of information and content, thus save money and increase profit
How does federated search work?
Most federated search tools work as a function of two main architectures which are worth mentioning.
Query time. Search issues query to each platform/system independently. The search results then are presented in different unstructured formats and the order of each platform/system priority. All the ranking adjustments are limited but no additional indexing of content is required. This is especially great for large-scale web search engines like Google or Bing.
Index time. Search requires all content to be in the same index. The search results are expected to be ranked by relevancy. With all the content in the same index, result management can be applied to return even better results. This type of search is typically harder to build as it requires building the whole index system but with modern search providers like AddSearch, federated search products can be easily and quickly implemented into any system.
Federated search examples
As federated search makes finding solutions on a website simpler, we implemented it on our own website, Addsearch.com. In the image below, you can see how federated search allows us to pull results both from our website and blog and display them so that customers can easily differentiate between them and choose a result based on their requirements.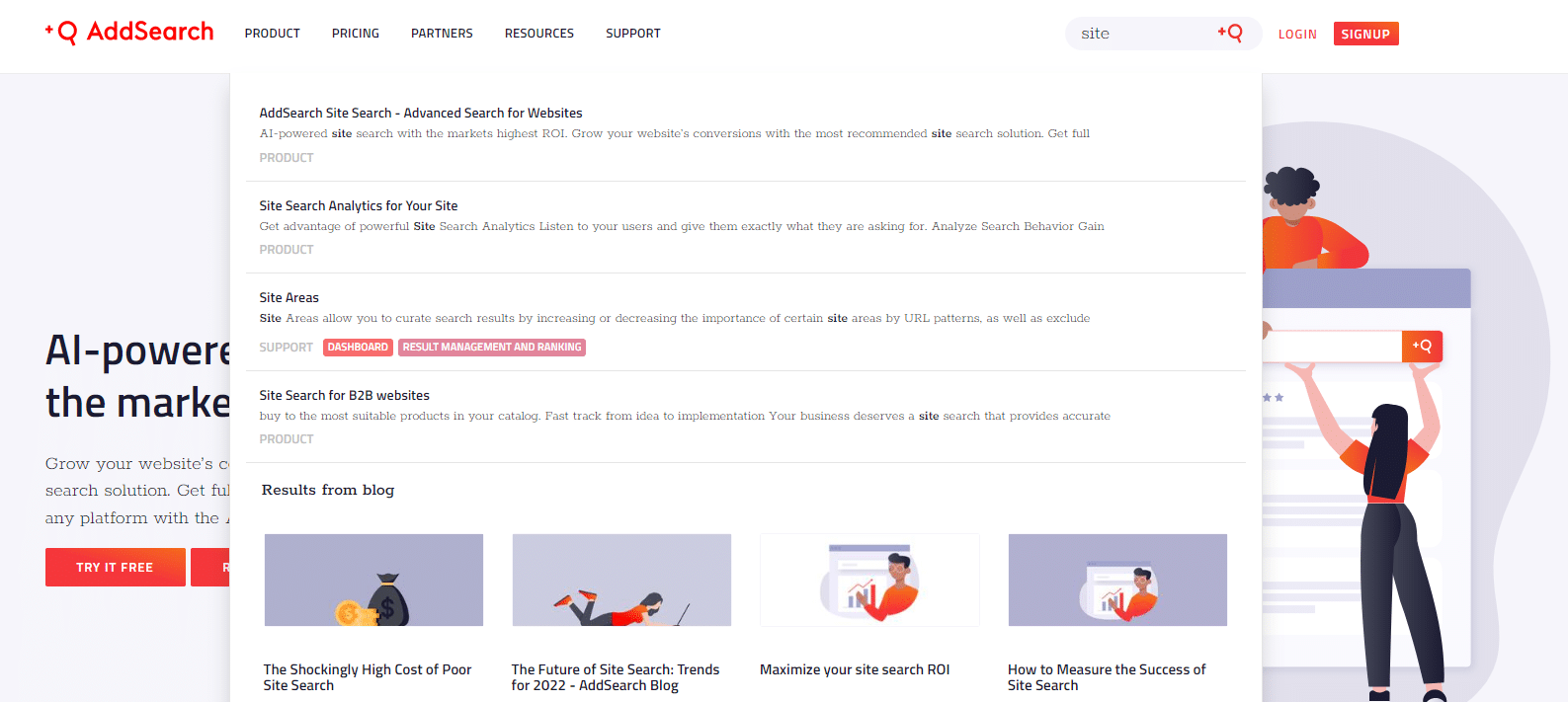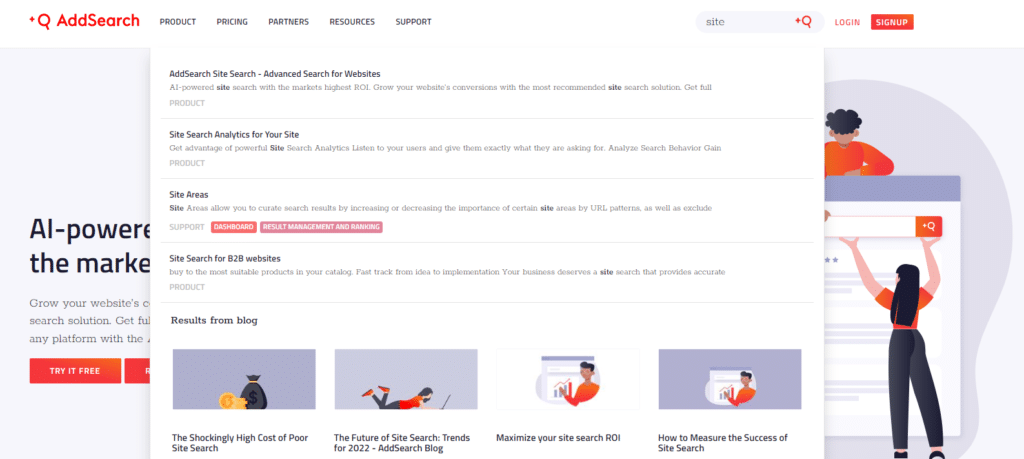 If you need to combine multiple domains, check out this example of federated search that we implemented for a customer:
On the other hand, your business could be a product-based business, in which case you may wish to show product results separately from other content, like this client: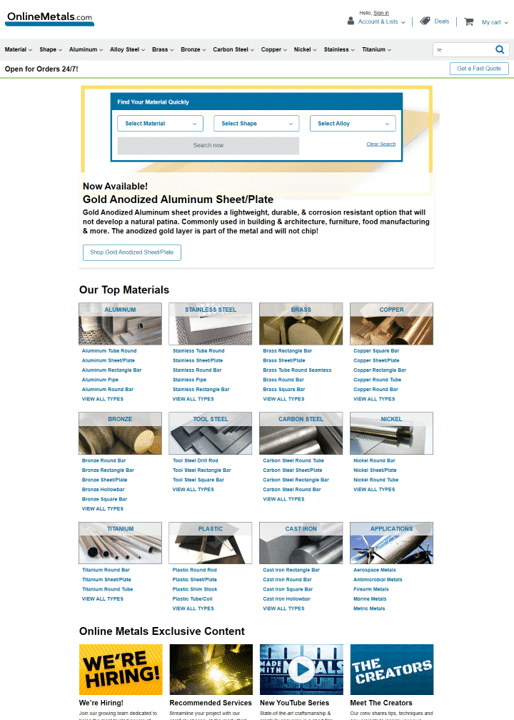 How to implement federated search?
When looking for federated search engine, you should keep a few things in mind.
Platforms you want to connect
The user interface of search
All adjustment to search results (ranking adjustments, synonyms, languages)
Importance of analytics (especially valuable for website search solutions)
Why AddSearch?

AddSearch provides a service which allows indexing content from multiple sources as well as returning the search results with a visually appealing instant search solution on your web page.

AddSearch ranks content by relevancy using learning algorithms to give better search results. All your content is indexed within a single central index, providing your end-user with excellent search results.

Start free trial
Platforms
AddSearch crawls any platform from legacy systems to state of the art single-page applications. You can combine any number of platforms under one index and easily filter down search results by users' preferences. For instance, the user can choose which platforms or which parts of the platform to include in the search results.
The user interface of search
AddSearch gives you full freedom to design search the way you want it to be. The search results can be returned with a widget or with a more traditional separate results page view. The search results, regardless of the source, are returned consistently.
Managing search results
You will have tools for advanced result management from synonyms and ranking adjustments to language-specific settings like stemming. We believe that with the right search setup, you can significantly improve user experience, shorten search time and increase the efficiency of time spent on the website.
Analytics
Gain valuable insight into how your users are using search. Our search analytics helps you to discover how often your users search, what they search for, and whether they find it.
Use this information to guide future content production and to give your users exactly what they are asking for.
Why federated search is important for your business?
When using Federated Search, you can look for anything and everything at once. It allows people to find exactly what they're looking for without having to think about where it could be located. This enhances the user's experience, resulting in increased loyalty and engagement.
Interested?
If you are looking for a reliable federated search vendor and are interested in having easy access to your content scattered across all your platforms, get in touch and we will find the best solution.
Was this helpful?
Let us know if you liked the post. That's the only way we can improve.