We often get asked how AddSearch compares with other search platforms, in particular, Swiftype and Algolia.
All three search providers differ considerably in their features and search tools, benefits, costs, and implementation.
To help answer your questions, we'll take a closer look at these platforms and help you find the right solution for your website.
Take a look at the table below for a quick glimpse at the main differences between the three platforms:
| | AddSearch | Swiftype | Algolia |
| --- | --- | --- | --- |
| Pricing | From $25/month | From $79/month | Freemium |
| Features | | | |
| Result management | Ranking adjustments, typo tolerance for all plans; synonyms, promotions, search suggestions for Professional and higher | Ranking adjustments, typo, synonyms tolerance for all plans | Synonyms for all plans, ranking rules for premium customers |
| Analytics | Shows popular, no click and no result keywords. Pro analytics show keywords by URLs and URLs by keywords. Integration to Google Analytics and Adobe Analytics available. | Covers searches, clicks and insights. | Shows popular, no click, low CTR and no result keywords. Premium analytics shows geographical data and use of search. Integration to Google Tag Manager available. |
| Analytics retention | From 30 days to 1 year | From 30 days to 6 months (custom for Premium plan) | 90 days (365 days as an add-on) |
| Search UI | Ready-made UI with customization. Search API and JavaScript library for complex solutions. | Ready-made UI with customization. Search API and JavaScript library for complex solutions. | Search API and JavaScript library for complex solutions. |
| User management | Advanced user management for account | User management set up at each index | User management set up at each index |
| Self-learning algorithms | Available for all plans | At request for Premium customers | Available for enterprise. Part of personalization tools |
| Personalization | Add-on for Premium and Enterprise plans | Not available | Available for Premium plan |
| Setup | | | |
| Implementation | From inserting a few lines of code to building complex customized solution with API. | From inserting a few lines of code to building complex customized solution with API. | System to push content to Algolia is required to set up crawling. Then building UI with API. |
| Platforms supported | All. Plugin available for WordPress | Most, no support for Ajax, JavaScript and private websites | All, if you build integration. Plugins available for Magento 1 and 2, Netlify, Shopify and Salesforce |
| Multiple domains | From 2 to 20 domains in one index (custom for enterprise) | 1 domain (+$30/each additional) | Each domain is required to have a separate licence |
| Support | Email and live chat support for all customers | Email support | Email support. Onboarding and Premier support are offered as add-ons |
Compare by
Feature and Tools: Algolia vs. Swiftype vs. AddSearch
AddSearch, Swiftype, and Algolia all provide extensive tools for managing and understanding your search results. Let's dive deeper into this functionality.
Manage search results
Both AddSearch and Swiftype provide you with a powerful result management toolset, including ranking adjustments and typo tolerance for any plan. Synonyms, promotional banners, and search suggestion autocomplete are included starting from the Professional package at AddSearch.
Algolia, on the other hand, gives access to synonyms for all plans but limits result management features, such as boosting particular search results, only to the premium customers.
Analytics
All three provide advanced analytics options, giving access to top searches, no click, and low CTRs searches. AddSearch new Pro analytics feature top keywords by URLs and top URLs by keywords. Google Analytics and Adobe Analytics integrations are available for anyone with a Professional plan or higher.
Analytics Retention
At AddSearch, we provide unlimited access to search analytics history. Swiftype retention is limited to 30 days or 6 months depending on the plan (custom for enterprise). At Algolia it's 90 days.
Search UI
Both AddSearch and Swiftype provide ready-made UI's that can be implemented right away or customized. If you want to have 100% control over your results view, you can use traditional REST API along with an easy-to-use and state-of-the-art Search UI library. Using these tools, you can also integrate the search into mobile applications or existing implementations and build new features on top of those.
Algolia provides an extensive developer toolset, including a building blocks library. The search UI can be coded with these tools' help.
User Management
AddSearch has an advanced user management tool that allows you to manage which user can access which domain. This feature is especially useful for digital agencies and enterprises that monitor multiple domains and have different people requiring access. Swiftype offers user management for each individual index. Algolia has 6 permission accesses for team members of each individual index.
Personalization
Search personalization is used to show selected search results depending on previous user history and is supported by Algolia and AddSearch. Relevant search results for each of your users can be very different depending on the user's status and previous web-behavior. AddSearch Personalization gives you a robust toolset for building a personalized search experience tailored to your website visitors and aimed at your business needs.
Swiftype doesn't have any similar feature available.

Setup and Implementation: AddSearch vs. Swiftype vs. Algolia
Search setup is the major difference between the three platforms. The setup is simple and fast for AddSearch and Swiftype. Algolia's implementation could become a complex and long project and can not be done without developers' help.
Swiftype and AddSearch implementation
In the simplest setup, both AddSearch and Swiftype can be set up within minutes by adding a few pre-defined lines of code to the website. Both platforms provide API and JavaScript libraries for customization of search UI.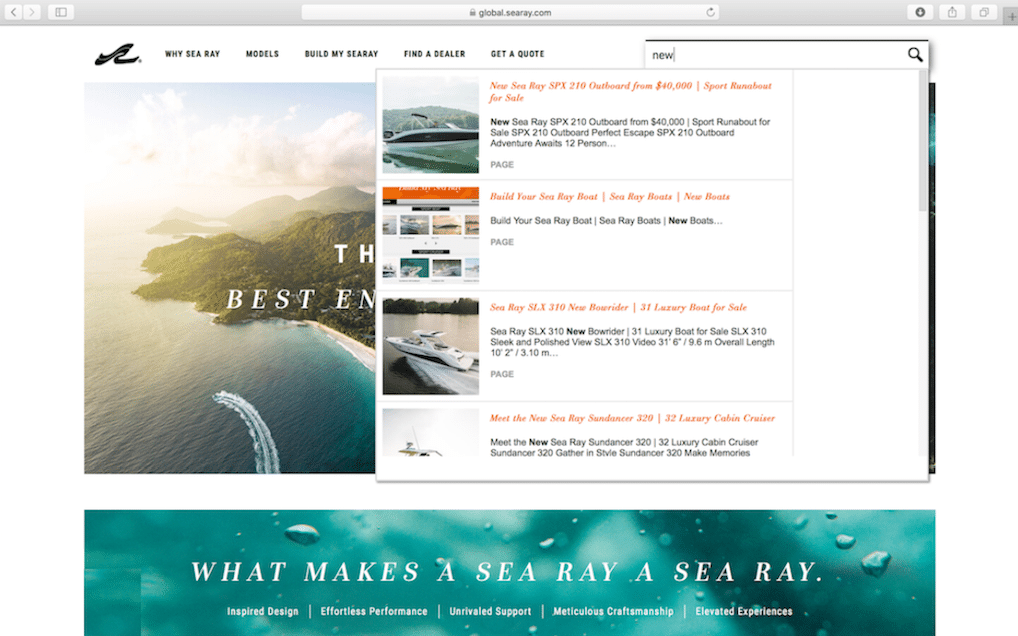 Above, you can see an example of a search bar implemented by AddSearch customers. There's the AddSearch search widget, composed of simple pre-defined lines of code.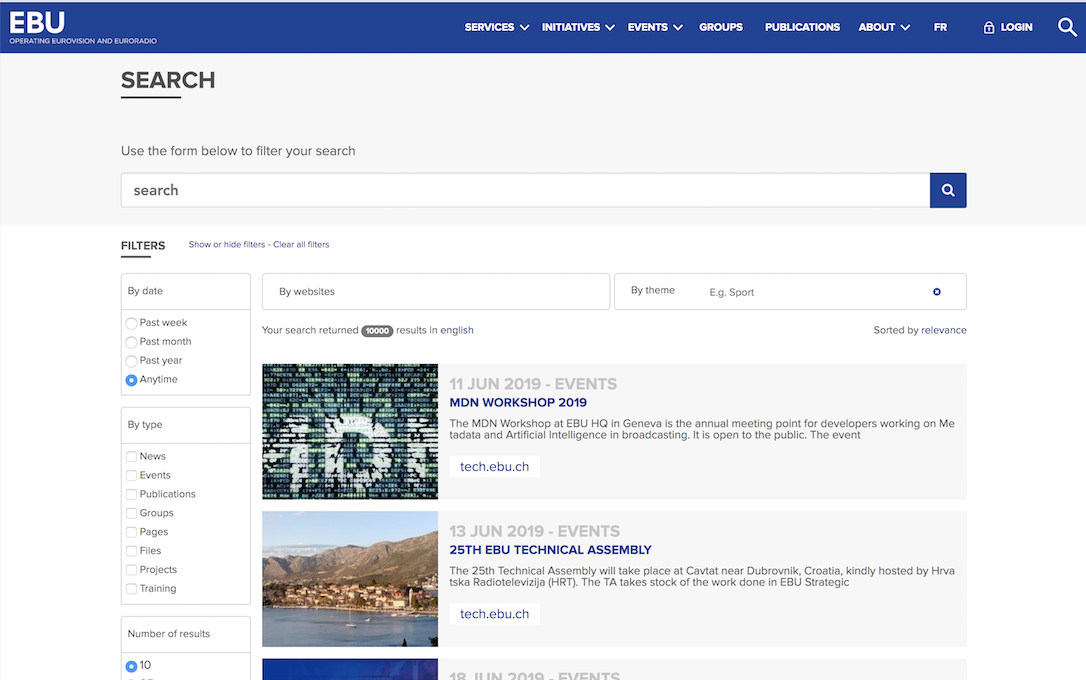 In the second example, you can find a search built using the AddSearch API. AddSearch also provides extensive implementation support.
You can design and implement a search yourself or ask our team to do it. We develop custom search design and UI for all Premium and Enterprise customers.
AddSearch is platform-agnostic, which means that it can crawl any content on any CMS. At the same time, Swiftype has certain limitations to the website's platform, including an inability to crawl AJAX and JavaScript websites or certain private websites.
Algolia implementation
Algolia's implementation is very different from AddSearch and Swiftype. While AddSearch and Swiftype both crawl content from your website, you need to push content to Algolia to have it indexed. For that, a developer has to create a script that connects their own platform with Algolia's system.
Although this is certainly a costly and time-consuming constraint for most businesses, Algolia is perfect for complex databases and data not publicly available for crawlers.

Support: AddSearch vs. Swiftype vs. Algolia
Customer support is super important. AddSearch's support has been praised by users in customer feedback and public reviews.
AddSearch strives to respond within 1 business day to customers with any questions: from pricing to technical issues. Live chat is available most of the time and is accessible from the dashboard for fast problem-solving.
Swiftype has an email support channel open to all customers and offers response time SLA to enterprise users. Algolia provides Standard and Premium customers with full email support and refers to the community forum for the rest. Implementation support is available upon request.

Pricing: AddSearch vs. Swiftype vs. Algolia
All three search providers have several price tiers. Their pricing is publicly available on their websites. Algolia and Swiftype prices are based on the number of search queries and operations, which can't be known in advance. AddSearch has transparent and predictable pricing based on the features and number of documents (pages) indexed on the website. Here's a look at the pricing in more detail:
AddSearch pricing
AddSearch offers four pricing plans ranging from $25/month for a simple search bar to a complex tailored solution for enterprises.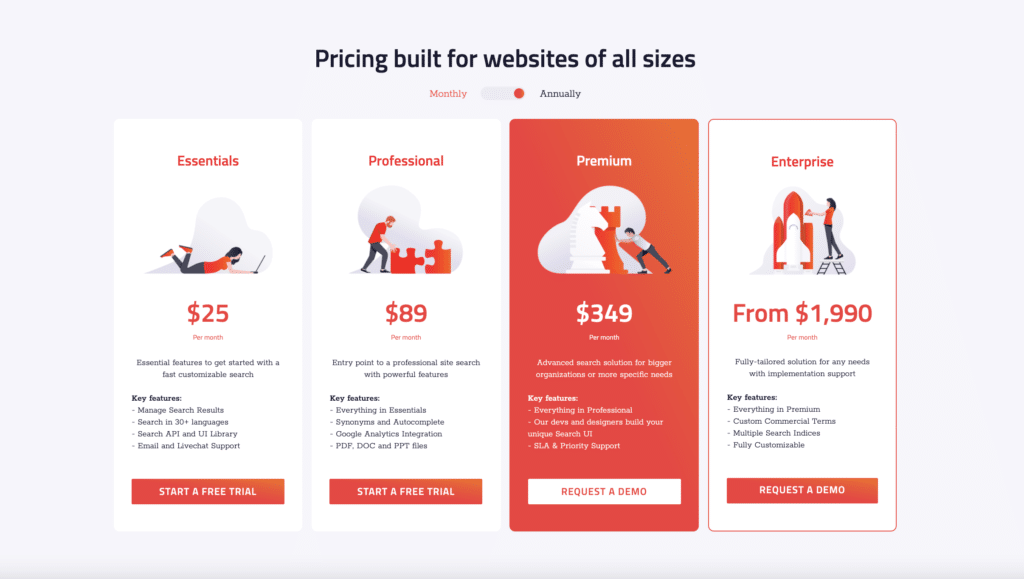 All AddSearch plans include ranking tools, Search API, language-specific features, and fast and reliable customer support. The more advanced plans have many additional features and, for example, SLA and implementation support.
Swiftype pricing
Swiftype's pricing offers $79/month, $199/month, and a custom plan. Plans differ in the number of documents, crawling frequency, and search management features. AddSearch's and Swiftype's offerings are similar. However, with AddSearch, you can set up more complex solutions at a similar or even lower price.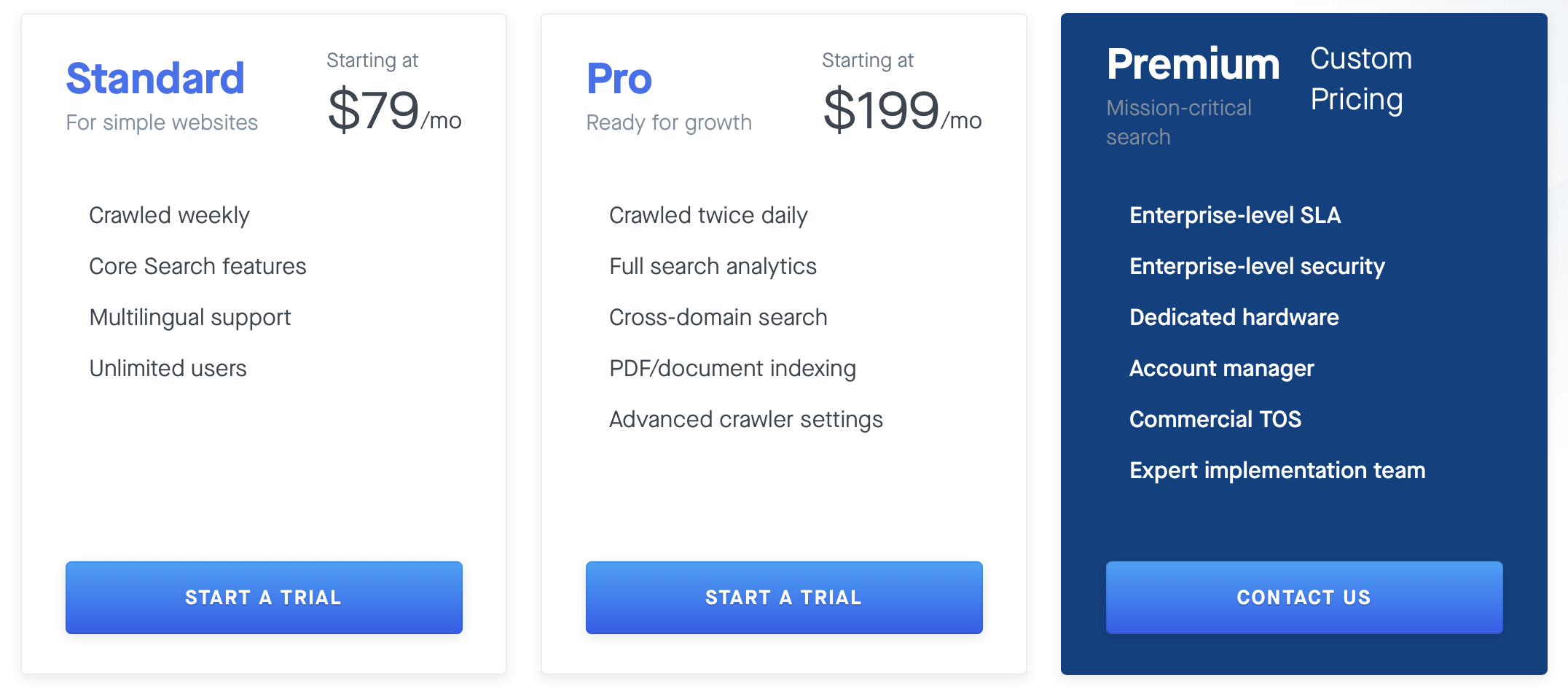 We made a simple comparison chart between AddSearch Professional plan and the Swiftype Pro plan.
AddSearch Professional
Swiftype Pro
Price
$89 / month
$199 / month
Documents
10k (+$25 per additional 10k)
10k (+$25 per additional 5k)
Queries
100k / month
100k / month
Domains
10
1 (+$30 per each additional)
Analytics
Pro (all analytics history)
Pro (6 months analytics history)
Result Management
(Content Promotion, Synonyms and Autocomplete)
✔
✔
Typo Tolerance
✔
✔
PDF / Document Indexing
✔
✔
User Management
Advanced
Standard
AJAX Crawling
✔
-
Algolia pricing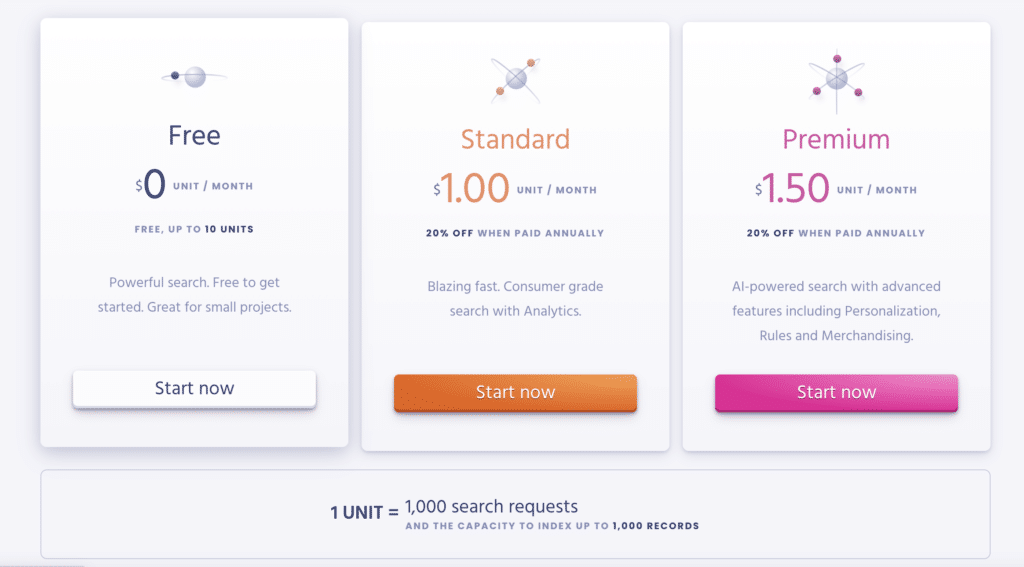 Algolia has dynamic pricing based on search requests and records you have on your website. In autocomplete and search-as-you-type implementation, each keystroke is counted as a separate search request. A record is a search item; however, the number of records is multiplied by the sorting options you want to implement.
Conclusion: which search is best for your website?
If you're looking at AddSearch and Swiftype, the decision is, of course, up to you. Here at AddSearch, we are obviously working hard to make the best search solution for you and your website. Finally, here is a list of features that we think you'll love about AddSearch:
However, if you have a complex database platform or looking to set up search personalization and have spare development resources, then Algolia might be the right choice for you.
Was this helpful?
Let us know if you liked the post. That's the only way we can improve.