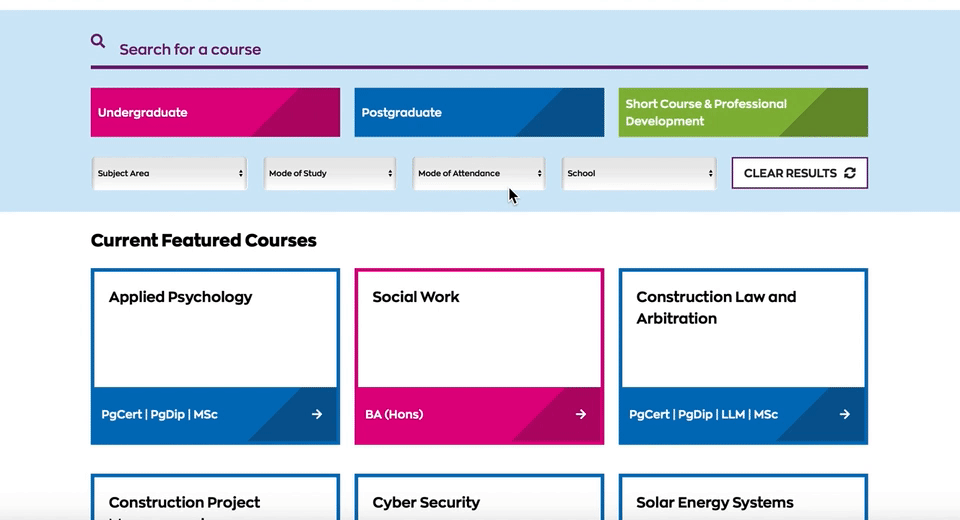 30% Increase in Traffic to RGU's Course Pages
Robert Gordon University (RGU) started to look for a new search solution as they wanted to improve their site search. Initially, the team looked toward an in-house search development solution, but this idea was eventually downvoted because of its complexity and long development process.
With limited time and resources, they looked for a solution that would support their needs for indexing web content, PDFs and text files and would provide flexibility while also offering precise control of results.
"AddSearch gave us the flexibility to build search exactly the way we wanted," – shares Colin Jones, Web & Applications Team Leader at Robert Gordon University, – "Customer support played an important role as every time we reached out we received an answer within 30 minutes. The platform has been developing very fast and new product features have improved our search a lot."
Sean Brosnan, Digital Content Manager added, "The whole experience has been great. We have seen a 30% increase in traffic to our course pages and the new search has played a major role in this. Our students and academic staff found the search much more user-friendly."
RGU implemented an API-powered search solution as their main course of action. "With AddSearch API, we built search as we wanted. Clear documentation and great fast support made it really easy to connect and achieve good results," adds Stephanie Baxter, Senior Web & Applications Developer at Robert Gordon University.
Aberdeen's Robert Gordon University is the top university in Scotland for graduate prospects, with an international reputation for management, health, energy & technology courses.