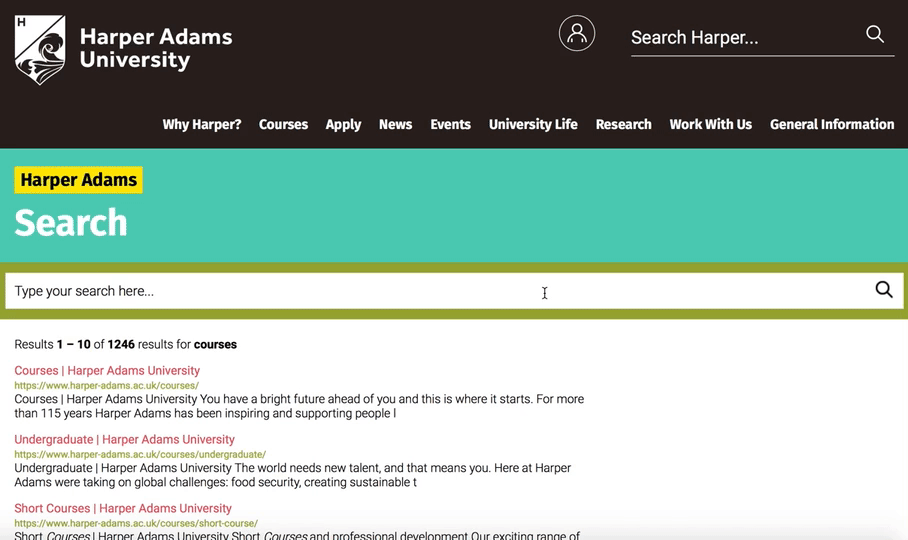 Harper Adams University
Harper Adams University (HAU) made massive changes to their website and needed a new search solution as an alternative to the Google site-search they had before.
For HAU, site search has always been a business-critical function that required a fast solution and great support.
"We compared several similar services, but decided that AddSearch was the easiest one to implement. We wanted an easy to implement, ad-free solution, and needed it quickly", says Tom Klages, Digital Marketing Officer at Harper Adams University, – "Search function is one of the most frequently used function on HAU's website, as people rely on it to find information on the website quickly."
"Most of our users were accustomed to the search function on our old website", Tom adds, – "So the search function was extremely important for the university and they needed to ensure that it worked perfectly, after the website was relaunched."
AddSearch was quick and easy to implement, and Tom received fast replies from the customer support. "AddSearch support has been amazing – they were quick to respond, and gave very helpful answers to my questions!". Tom has been more than satisfied with the solution for HAU's website. "Yes, I would recommend this product to others!" AddSearch met all the requirements and the university has been happily using AddSearch ever since.
Harper Adams University is the leading higher education provider of land-based education in the UK.