Site search has proven itself to be integral in reaching higher conversions on websites. Nowadays the question is not if you have a site search option but rather how well it is working.
In the next decade, site search options will be going through some major changes. For 2020, we can already make some predictions based on trends that are starting to emerge. Keep on reading if you want to know where the site search industry is going, how it would affect your business and how you could use a site search to get even more customers.
1. Site search will become more personalized than ever
A couple of years ago it was still enough for site search to offer results when you type in a keyword. Ideally, it would have recognized typos, offered autosuggest and never led to a "no results" page.
But site search is becoming more personalized than before. Many websites are serving different kinds of end-users with various profiles and interests. It's vital to have personalized search experiences for each of these user groups.
You might be offering your products or services both B2B and directly to individual customers. These users have different needs when it comes to information.
For instance, an HR person looking for a management solution for their company would want to see different content than an individual looking for a project management tool for their freelance work.
With personalization, you can offer relevant results for each user based on their preferences and prior search behavior. Going back to our example, an HR person might have already downloaded a pdf targeted towards HR managers on the website. Based on their behavior, they would get assessed as a B2B user and can get more B2B oriented results in their search.
Customers increasingly care about the experience they are offered on a website. 80% of customers find their experience with a company is equally as important as its products and services. It's vital to offer them an intuitive and clear way to navigate along with your page.
2. Site search will feel less like search and more intuitive
A good site search is the one you do not even think about as a user. You use it so intuitively that you don't need to assess what you are doing – you just do it. In 2020, site search will look even less like classical search.
For instance, search engines are capable of suggestions based on your prior behavior and search results. As a vegetarian looking for a new recipe, meat-free options will appear as suggestions for you. Instead of having to type into a search field "vegetarian pasta", the website will offer you recipes that fit your diet.


What suggested content looks like on Amazon.
A similar trend is currently emerging in eCommerce where you do not have to type in a keyword anymore to find what you are looking for. In addition to using the classical site search widget, you have the opportunity to navigate through the user interface.
For example, when you open a website of a retail shop that sells clothes, you might click through categories such as "women" and "men" or "dresses" and "pants". You'll be able to filter the results by price, availability, colors, etc. until you find what you are looking for. Instead of typing in a keyword, you were guided through the page intuitively.
Going back to our first trend, site search will look even more intuitive the better the personalized experience is integrated into it. Ideally, your website integrates both classical site search and intuitive navigation experience with filters.
3. Site Search will support users through chatbots and conversational widgets
Chatbots are incredibly popular on many websites. They are a great tool for lead generation and guiding customers through your pages. Experts predict that 85% of customer interactions will be handled without human agents by 2021.
After all, chatbots are available 24/7 and are never annoyed or tired, unlike their human counterparts. Most customers enjoy working with chatbots; more than half of internet users are satisfied with them and around 60% of millennials already use them regularly to purchase basic goods.
Chatbots search through the website and offer results based on the website's search index (find out more about indexing). The user is not aware that they are using site search, even though the site search provides relevant information through search indexing and a chatbot.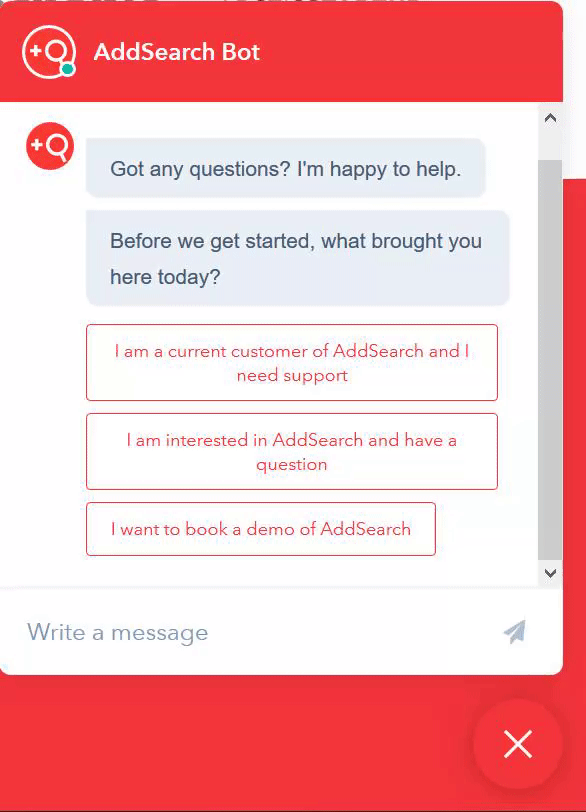 Chatbot at AddSearch guides you towards the info you need.
For example, a real estate agency might offer a chatbot that asks users questions such as "How many bedrooms are you looking for?" or "What is your price range?" or "Are you interested in a house or an apartment?". All of the information is already indexed, so the chatbot can offer relevant suggestions for the customer.
While chatbots give the answer to the client, the underlying technology used in this case is site search. Going back to our example of the real estate agency, a user looking for apartments in a certain area, can get a pop up from the chatbot when a new apartment in this area just came on the market.
Sounds all a bit too technical? Thankfully, our next trend takes a little bit of your headspace away from tech and lets you focus on supporting your users.
4. Site search providers will offer more elaborate ready-made tools
This is ideal for any company from small to enterprise that does not want to waste any time and personal resources on hiring a developer to code and customize their site search tool.
Site search companies like us at AddSearch will provide even more ready-made tools and example code for their customers to offer great search results with smaller effort and a smaller amount of resources. So far, ready-made tools offered simple solutions like a search box. To implement a more sophisticated and customized user interface, a customer used to code a search by themselves.
More and more complex solutions are now available inside the tool libraries of site search providers. They offer a custom experience for the user without the need for doing the custom design work.
Now you can provide great search results – minus the struggle of having to code yourself. For example, you can easily offer a variety of user interface components such as price filters or category filters when you run an eCommerce site.
The options to control your search are going to be much more elaborate than they used to be. In addition to all that, you can adjust your site search rankings based on your business needs (e. g. offer the most profitable products first or the ones with the biggest gross margin).
Needless to say that these ready-made tools and tool libraries cut down expenses and time-to-market for your products.
Was this helpful?
Let us know if you liked the post. That's the only way we can improve.