Google Custom Search Engine, Google Search Appliance, Google Site Search… The list of products might get confusing very quickly. With AddSearch, this is no longer a problem.
In 2018, Google terminated two out of three search products: Google Site Search and Google Search Appliance, and now put all the efforts into an old, well-known product, Google Custom Search Engine (or CSE).
Let's dig into CSE and try to understand if it is the right fit for your website.
Google CSE has changed a lot since the closure of its two corresponding products. Google Custom Search used to be a free site search supported by Google ads. That's right, if you install CSE you will be showing ads of other businesses (and even your competitors) on your own website.
As of today, Google CSE offers different plans for different business needs as well as lots of customization tools. Yet its design limitations, ads, lack of speed made many of former Google search products' customers look for a better solution.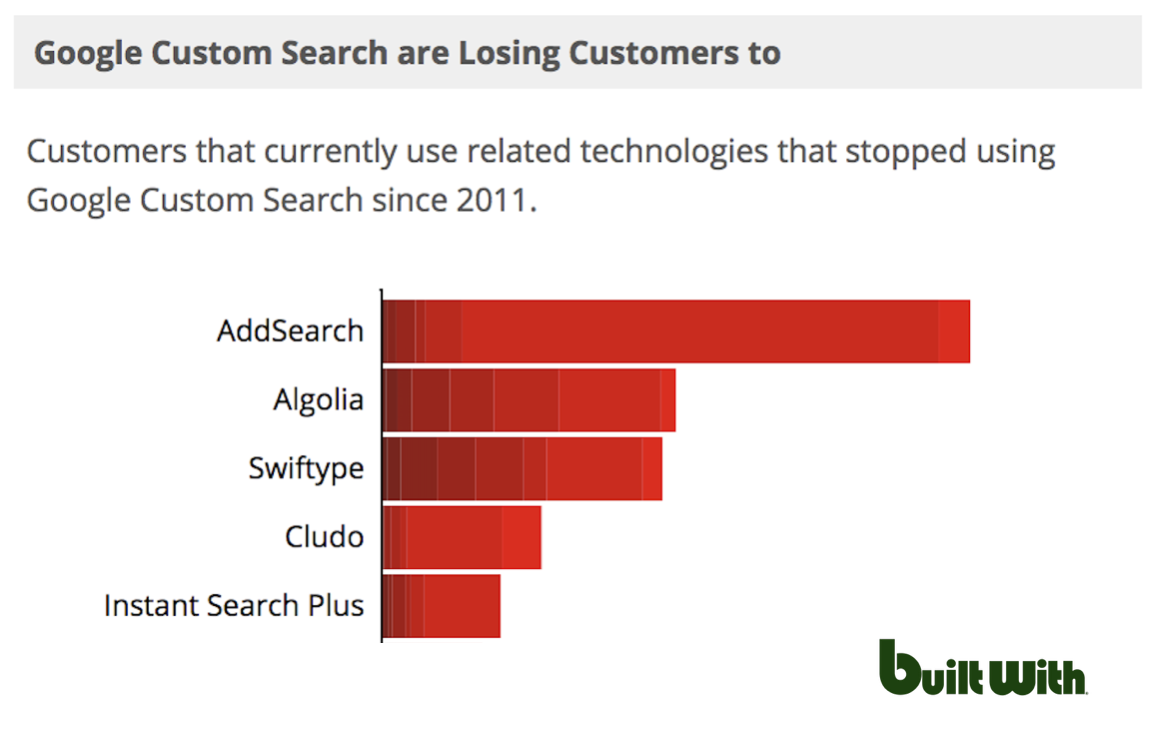 Many of them decided on AddSearch. Whether you're a small company or a large enterprise, AddSearch provides a simple, like-for-like replacement for Google Custom Search Engine. You will still get to enjoy all the great features from CSE, now with additional tools that will dazzle your customers and boost conversions. It takes just five minutes to switch over, with no coding experience or developer support needed.
Below, we compared Google Custom Search Engine to AddSearch side-by-side.
| | AddSearch | Standard Google CSE | CSE powered by API |
| --- | --- | --- | --- |
| Pricing | From $25/month | Free | $5 per 1000 queries |
| Ads | No | Yes | No |
| Query limits | No limits | No limits | 10,000 queries per day (if more than 10 domains) |
| Implementation | From inserting a few lines of code to building complex customized solution with API | Client side javascript | Client side or server side JSON API |
| Analytics | Shows popular, no click and no result keywords. Integration to Google Analytics and Adobe Analytics available. | Shows popular queries and volume of queries. Integration to Google Analytics. | Shows popular queries and volume of queries. Integration to Google Analytics. |
| Support | Email and live chat support for all customers | No | No |
Let's start from the beginning.
Features
| | AddSearch | Google CSE |
| --- | --- | --- |
| Search Suggestions Autocomplete | ✔ | ✔ |
| Promotions | ✔ | ✔ |
| Typo Tolerance | ✔ | ✔ |
| Indexing of PDFs, DOCs or PPTs | ✔ | ✔ |
| Adjust ranking of individual pages or entire site sections | ✔ | - |
| Instant results, search-as-you-type | ✔ | - |
| Hidden keywords | ✔ | - |
| User management | Advanced | Basic |
Both AddSearch and Google CSE support search tools including search suggestion autocomplete, promotional banners for certain results, typo tolerance and are able to index additional file types.
In addition, AddSearch enhances search by providing new powerful features that improve search results even further.
– Adjust ranking of individual pages or entire site sections
Do you want products to be shown above any other pages? You can adjust the ranking of certain site sections, such as path /products by boosting their weight with our tools. You can also exclude content or boost even certain file types such as PDF files if you want to
– Instant results and search-as you-type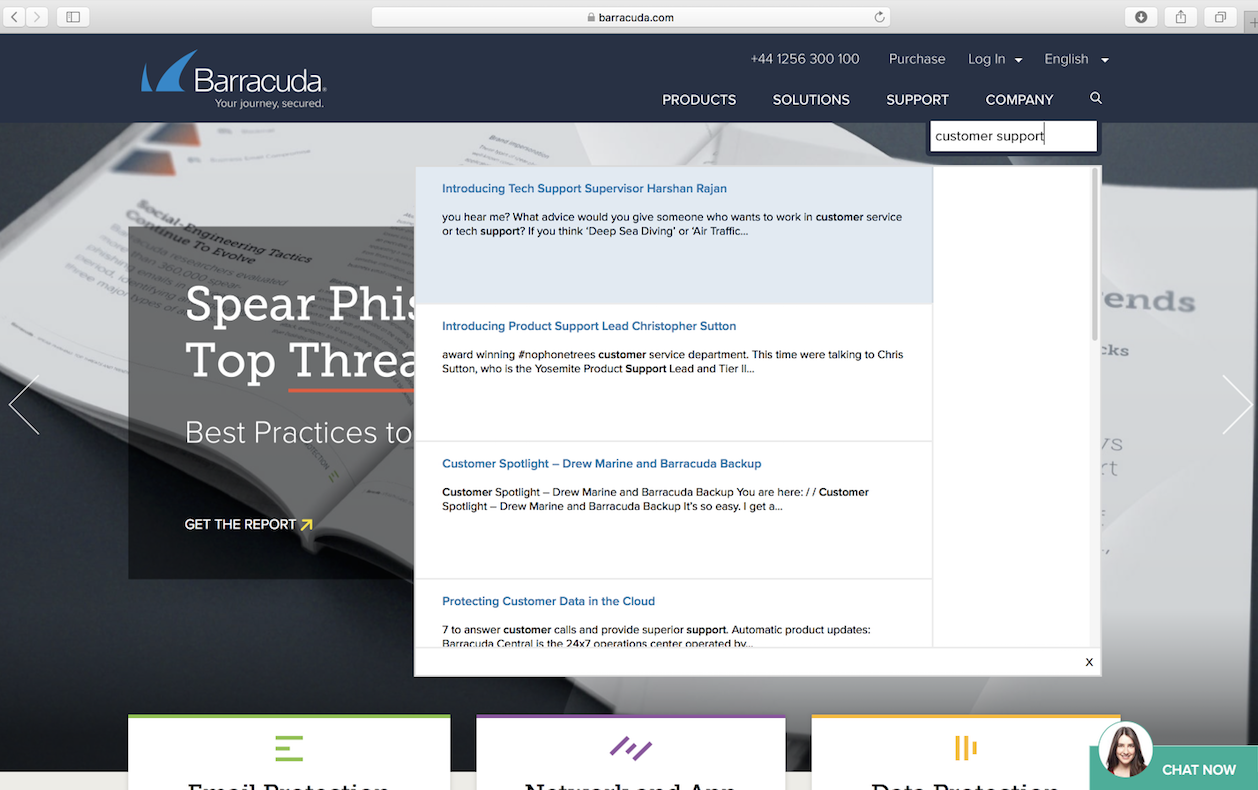 Your visitors can search from anywhere on the website and find the right information straight away. AddSearch gives your website visitors instant search results and makes search experience faster and smoother.
– Hidden keywords
If you want your page to rank for additional keywords without adding the keywords into the text of the page, use hidden keywords. You can specify hidden keywords page by page.
– User management
Invite your colleagues, content managers and marketers to look over search statistics while making sure that only the right people can make actual changes to your search results.
Pricing
AddSearch Pricing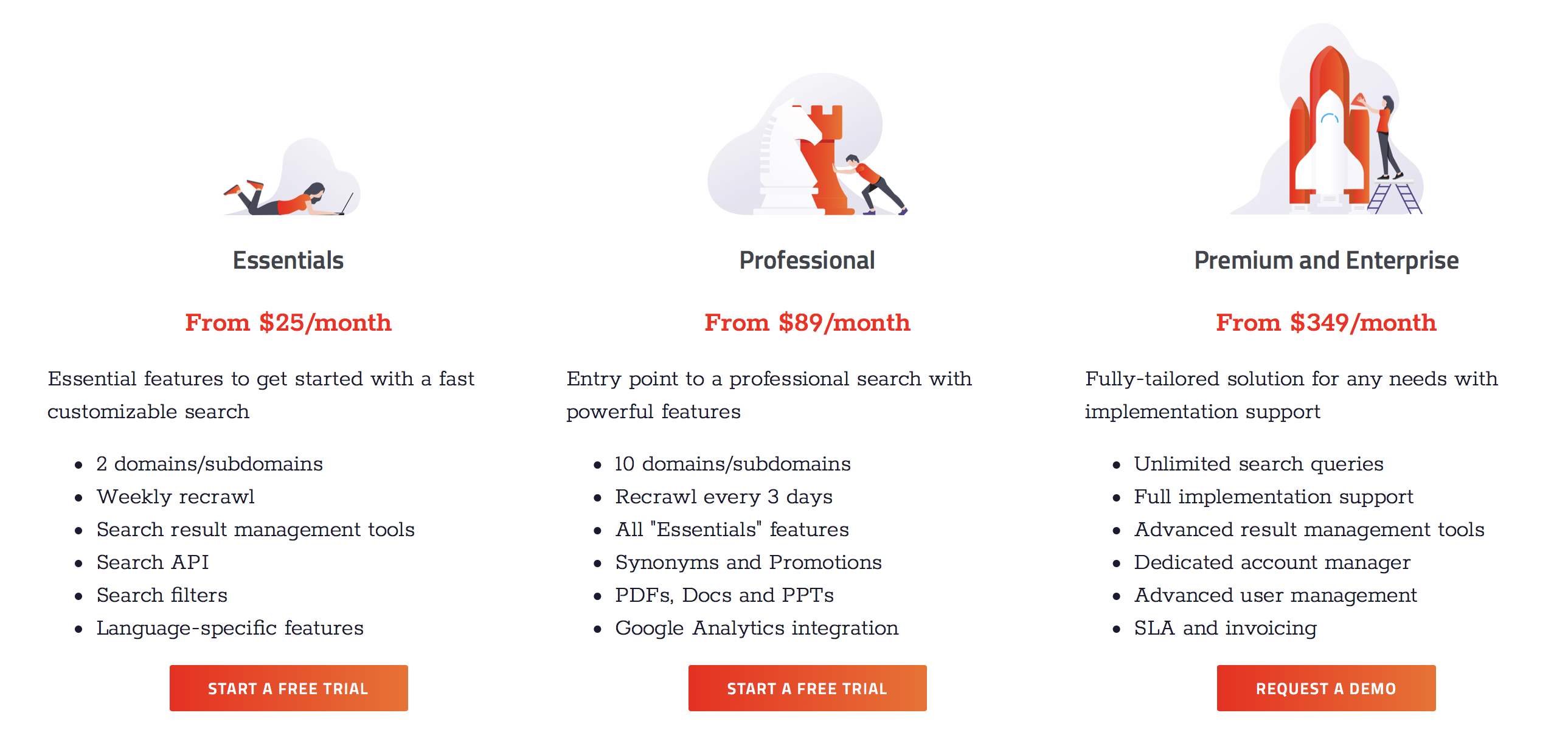 All AddSearch plans include ranking tools, Search API, language-specific features and fast and reliable customer support. The more advanced plans have many additional features and, for example, SLA and implementation support available.
Google Custom Search Pricing
Here's Google Custom Search Engine pricing taken from its official website.

You can see that the free Standard Search Element still comes with ads. Google CSE make it obligatory for non-profit companies to use Google branding on their website. Custom Search powered by JSON API, which is no longer free but costs $5 per 1000 queries, is not sustainable for large websites because of its limitations of 10,000 queries per day or 10 domains connected to the search engine (depending on if you choose JSON API or Restricted JSON API).
Setup and Implementation
Both AddSearch and Google Custom Search Engine support simple installation with inserting Javascript code to the website. AddSearch can be customized freely and styled with CSS to suit any website and brand. Google Custom Search customization is limited to a few settings. If you have a more complex solution in mind, API is available for both AddSearch and CSE.
Support
If in trouble, Google does not provide any support for search products, whether you use paid search or a free one. If you have any technical issues or questions, Google directs customers to its Community Forum, where Google enthusiasts and employees publicly discuss the subject of support.
AddSearch support, on the contrary, is loved and often praised by our customers. In addition to extensive documentation, we offer live chat and email support for all plans, as well as full implementation assistance and consultation for enterprise customers.
What is the right solution for you?
Here's a list of features that customers who migrated from Google search products especially love about AddSearch.
AddSearch provides all the same familiar features as Google search and much more
There is no AddSearch branding or other business ads on your website
You can enjoy full design freedom
We will support you at every step and our customer support is fast, friendly and responsive
AddSearch search analytics cover most popular and low CTR keywords as well as keywords returning no result
In the end, the choice is up to you. Whether you're a webmaster or developer, working in a business or a non-profit organization, we obviously work hard here at AddSearch to make the best search for you.