AddSearch supports crawling and indexing several document types. In addition to webpages, AddSearch can crawl and index PDFs as well as Microsoft Word and PowerPoint documents.
The support for the document types is available to Professional, Premium and Enterprise plans.
Instructions
Follow these instructions to set up the Document types feature:
Login to your AddSearch Account
Go to Domains and crawling under Setup
Scroll down to Document types (PDF, Word, PowerPoint) section
Switch the setting to On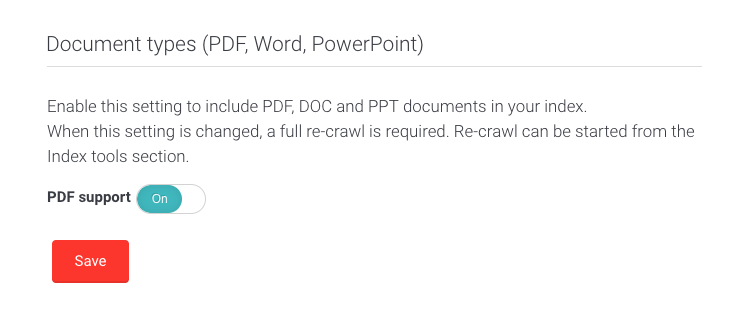 Please note: each document counts as a separate page in your plan's page quota. Enabling Document types feature may cause you to exceed your quota.
After enabling, it can take a few hours before all your documents are indexed. You can speed up this process by starting a full re-crawl from the Dashboard's Index tools page.
The size limit of PDFs is 20 MB. If your PDFs exceed the size limit, you can request a custom limitation.