Download the report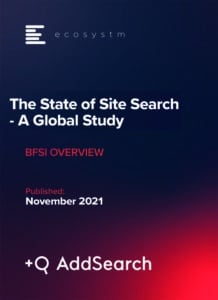 Did you know that site search can have a greater impact on conversions for BFSIs than even for eCommerce websites?
As more financial service organizations grapple with personalization and engaging a new generation of customers in the digital space, AddSearch partnered with Ecosystm to conduct a global study into their needs and priorities so we could support them better.
We asked businesses in the industry globally for their views on site search and their goals and best practices for 2022. The resulting report is packed with insight into the Banking, Financial Services & Insurance sector.
It reveals how businesses view site search, how it can help achieve business goals, and how to evolve your organization's site search capabilities.
Is your site search future-ready? Find out now.