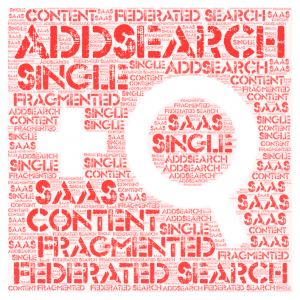 These days companies have accumulated content that is fragmented over multiple platforms. Companies might have a blog at WordPress or Medium, instructions, tutorials and FAQs in Zendesk or Intercom. Also, products and services may be located on e-commerce platforms such as Shopify.
Searching content from all of the various platforms separately may require extra effort, and the search results will most likely be in different formats. AddSearch provides a service where the content, fragmented over a variety of platforms, can be aggregated in a single index and rendered uniform for the users with a single search solution.
Enterprises subscribe to multiple platforms
According to Blissfully SaaS trends, the number of enterprises spent on the SaaS subscription platforms increased in 2017 while, at the same time, there was a slight decrease in the subscriptions. Nevertheless, multiple SaaS subscriptions for an enterprise have become very common, which means that the fragmentation of the content has become more common as well.
What this means is that the information is located across many different platforms such as business-related Shopify, marketing related Hubspot, customer support focused Zendesk and even DevOps related Heroku. These platforms entail diverse platform-specific content all of which is vital to the functioning of the company and thus should be effortlessly accessed – preferably in a uniform fashion.
Search solution for fragmented content
Aggregating search results from multiple sources is referred to as federated search. A federated search provides single point access to content gathered from numerous information sources which in the context of this article refer to the Saas subscription platforms.
Some of the most notable benefits of the federated search are that it saves the searchers time as all of the search results can be found using a single search solution. In practice, this is done with a search that renders the search results in a uniform format instead of the multiple forms different search solutions of the platforms would return.
One of the most known federated search solutions for enterprises is Google Search Appliance (GSA) which, however, will be discontinued in 2019. If you're interested, read more about GSA our other articles about GSA from here and here.
AddSearch provides a federated search solution
AddSearch provides a service which allows indexing content from multiple sources as well as returning the search results with a visually appealing instant search solution on your web page.
AddSearch makes it easy to select what is included in the index as well as filtering what is shown from the index when the user makes the search. The search results can also be filtered with facets, that is, narrowing down the search results by the users' preferences. For instance, the user can choose which platforms or which parts of the platform to include in the search results.
The search results can be returned with a Widget or with the more traditional separate results page view. The search results, regardless of the source, are returned consistently.
AddSearch doesn't shy away from the dynamically generated content either as AddSearch has support for AJAX crawling for our Enterprise customers. Thus platforms that make heavy use of Javascript can also be indexed as one of the multiple sources. To find out more what AJAX crawling is, visit this article.
In short, AddSearch can index the contents of multiple platforms and return them centralized with our Widget or Separate results page view.

Other features for enterprise customers entail
Service level agreement (SLA)

Implementation consultation

Geographically distributed search index

AJAX crawling

Pay by invoice

Priority support

Tailored features to make the search better
In conclusion
These days companies subscribe to a multitude of platforms which each contain essential information about the company. In an ideal situation, this information should be easily accessed through a federated search solution. A federated search saves searchers time and returns uniform search results.
AddSearch provides a search solution which allows indexing the contents of multiple platforms, including those with AJAX content, and a search with a fast and visually appealing user interface.  If you're interested in having easy access to your content scattered across all your platforms, get in touch with our sales representatives to see what we have to offer.